Články a reportáže
Datum: 03.07.2012
| |
Přečt.: 424472x
|
Hodn.: 4,00 z 5
|
Kom.: 11 742
|
Rub.:
Blbiny
Záskoky a tak...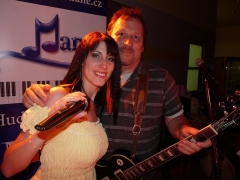 Záskok je v muzikantském životě určitě odvozen skutečně od slova jump nebo spíše bungee jumping. Je to vždycky velké těšení a velké dobrodrůžo. Místy se jedná dokonce o pravý adrenalinový zážitek.
   Míra adrenalinu se vyjadřuje koeficientem p ("p" jako průser).
Kompletní vzorec je p = pp x qk x pkb
kde pp = počet people (diváků)
      qk = qualita kolegů
      pkb = počet křížků či béček ve kterých se obvykle hraje.
Čili největší průser je vždycky s kvalitními kolegy, s tóninami vhodnými pro saxofony a jiné žestě na plese, kde je 700 lidí.
  Nicméně nutno říct, že za ten zážitek to vždycky stojí, protože zablbnout si chvilku s kapelou, ve které normálně nehrajete stojí vždycky za pokus. Člověk se pocvičí ve stupnicích, zazpívá si třetí hlasy, zahraje sóla, která nikdy nehrál a dokonce nikdy ani neslyšel, ale hlavně poklábosí s podobně postiženými jedinci jako je on sám. Taže jednou větou: Záskokům zdar!
  Jelikož se mi občas postěstí takhle někam vyrazit, tak si to opravdu užívám. Vlastně je to vidět i z obrázku. Kdo by si nechtěl zahrát s takovou fešandou? Inu DUO MANE!