Články a reportáže
Datum: 03.05.2009
| |
Přečt.: 24536x
|
Kom.: 11
|
Rub.:
Muzika
Čarodějnice 2009 ve Svádově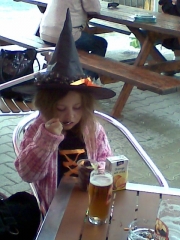 Jak bylo?
No. Bylo dobře. Rádi bychom poděkovali všem Svádovákům i těm, kteří přijeli od jinud, že přišli. Účast byla hojná a tak se samozřejmě i nám hrálo v pohodě. I když podle obrázku by se mohlo zdát, že malým čarodějnicím šlo jen o to, co kde slupnout. :-)
I na začátku, kolem páté, se sešla už poměrně početná skupina posluchačů, kteří se v průběhu večera měmili ve zpěváky (pobroukávali si), aby se posléze proměnili v tanečníky.
Po té co byly upáleny čarodějnice, posluchačky asi byly loni hodné, protože zůstaly, a následně se soumrakem už to na prostranství před Korunou vypadalo jako na taneční zábavě pod širým nebem.
Možná díky tomu to vypadá, že jsme ve Svádově nehráli naposledy a určitě ještě něco s organizátory vymyslíme. Třeba i tancovačku. Přijdete Svádovští?