Články a reportáže
Datum: 11.04.2022
| |
Přečt.: 2375x
|
Hodn.: 5,00 z 5
|
Kom.: 49
|
Rub.:
Muzika

Moje nové CD - IMAGINARIUM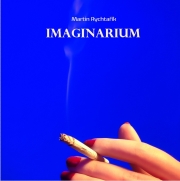 Už je to nějaký pátek, co jsem natočil své CD s názvem V Půli. Opravdu uteklo hodně vody.
Nějaký čas jsem střádal materiál na další CD a když to dozrálo, začal jsem točit ve svém domácím studiu.
Věřte mi, že jsem si nechal opravdu hodně záležet. Pracoval jsem na něm dva roky.
Na CD najdete 12 písniček a desítku  zajímavých hostů. V sekci CD a nahrávky, neleznete ochutnávky.
IMAGINARIUM si můžete objednat e-mailem martinrychtarik@seznam.cz.
Cena je 290,- Kč plus dopravné.
Takže neváhejte přátelé neváhejte. :-)