Články a reportáže
Datum: 01.04.2022
| |
Přečt.: 1068x
|
Kom.: 21
|
Rub.:
Muzika
B-BAND je mrtev. Ať žije B-BAND!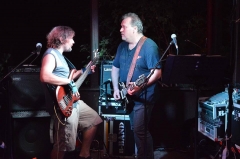 Ano. Ano je to tak.
Po těch dlouhých letech jsme se dohodli, že už toho trdlování bylo dost a že zkusíme něco jiného a oba dva jsme se s Honzou vydali vlastními cestami. Bez jednogho roku B-BAND fungoval dvacet let. Je to až k nevíře. Samozřejmě jsme zůstali kámoši a čas od času se sejdeme i s kytarama v hospodě nebo i na jevišti třeba s MANE.
Že si protiřečím?
Jo protiřečím. Domluvili jsme se, že čas od času, jednou dvakrát do roka jako B-BAND zahrajeme, takže když budete pozorně sledovat web a Facebook, máte nás samozřejmě šanci vidět i slyšet, ale jak říkám občas.
Všem fanouškům děkujeme za dlouholetou přízeň a Já děkuju Jožinovi a Honzovi za skvělé roky strávené na place.
Takže B-Band je mrtev. Ať žije B-BAND.