Články a reportáže
Datum: 07.07.2010
| |
Přečt.: 11031x
|
Kom.: 13
|
Rub.:
Muzika

Stará sestava Juwel Folku po létech zahrála na patnáctinách skupiny Vomiště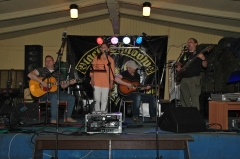 aneb o koncertu, kterému bych nikdy nevěřil
Začalo to tak, že mi zavolal Honza Mirovský jestli bych nezahrál s Juwelem na narozeninách skupiny vomiště, které se zrovna jal uspořádat.
Po té co se na druhé straně ozvalo rozpačité ticho Honza upřesnil, že má na mysli první sestavu Juwelu, právě tu se kterou jsme začínali.
Já jsem mu slíbil, že ostatní ukecám a nakonec jsem sám zjistil, že jsem vlastně nikoho ani přemlouvat nemusel. Tak přešlo pár týdnů, kdy jsme ze starých nahrávek lovili původní aranže písniček, které jsme už dávno zapoměli a jak jsme tak vzpomínali, tak jsme začali cítit jak nám to pomaličku začíná šlapat.
Pak nastal čas pilování a těšení na koncert vlastní. Než jsme se nadáli tak jsme napůl seděli a stáli před děčínským publikem a hráli. Musím říct, že jsem měl tak trošku malou dušičku aby na mě nebylo moc vidět jak mě to dojalo.
Škoda že to hraní tak rychle uteklo. Díky Járo, Honzo, Koli, Vomišťáci a děčíňáci za fain večer.