Články a reportáže
Datum: 10.11.2010
| |
Přečt.: 24235x
|
Hodn.: 5,00 z 5
|
Kom.: 23
|
Rub.:
Muzika
MALEJ LONDÝN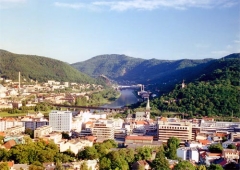 Obyčejná písnička o neobyčejném Ústí
Existují dva důvody, proč by zrovna tahle písnička neměla co pohledávat v novinkách na těchto stránkách.
A: Není to žádná novinka. Napsal jsem jí ještě v HSMR (Hudební Společenství Martina Rychtaříka, pamětníci dob, kdy M-klub byl klub a ne diskotéka, budou vědět).
B: Už jednou je uvedená na desce "V půli".
Existují ale dva dobré důvody, proč by tady ta písnička měla být.
A: Je úplně nejmladší jako nahrávka.
B: Dosud byla na stránkách jen jako ukázka a vy jste si jí vlastně nemohli poslechnout celou.
Vlastně jsem jí původně ani nahrávat nechtěl, ale občas jsem jí hrál někde v hospůdce na kytaru a známí mě přemlouvali ať to udělám a tak se Londýn dostal na CD.
Když se nad tím tak zamyslím, je to dobře. Ústečanům by mohla písnička pohladit srdce a těm přespolním poopravit názor.
Já si totiž doopravdy myslím, že moje město není tak ošklivý...
Malej Londýn si můžete poslechnout zde