Články a reportáže
Datum: 28.07.2011
| |
Přečt.: 23498x
|
Kom.: 32
|
Rub.:
Muzika

Jak bylo na pouti ve Svádově?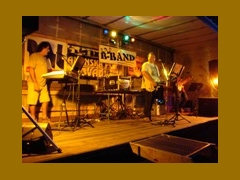 aneb B-BAND kamiónový...
Tak jsem se těšil na Bráchu že se sejdeme v rodné vísce na pouti a dáme pivko. Jenže zatímco my jsme křepčili ve Svádově na kamionu a milí svádováci bláznili pod ním, brácha se proháněl jiným kamionem kdesi u Liverpoolu. Asi mu Beatles přišli lepší než my.
Dokonce se organizátorům podařilo objednat nedeštivé počasí, a tak jsme mohli hrát až do půlnoci. A musím říct, že jsme si to užili.
Pokud jste to nestihli anebo vám to nestačilo, chystáme ještě rozloučení s prázninami o pár metrů vedle v Koruně. Takže se těšíme.
Slibuju, že v brzké době doplním fotogalerii z této akce, aby jste věřili, že to bylo prima.