Články a reportáže
Datum: 18.08.2011
| |
Přečt.: 4918x
|
Kom.: 6
|
Rub.:
Muzika

Úštěcký Jarmark 2011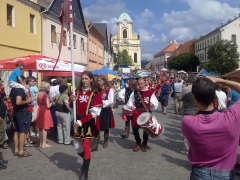 Úštěk žije - Ústí Betonuje
Možná se mi to jen zdá. Možná je to jen takový pocit, ale Úštěk je malý a žije narozdíl od naší metropole v Labské kotlině, která je mrtvá. Možná bych vyměnil všechny betonová monstra za trochu lidové zábavy a legrace v ulicích, tak jak to v Úštěku dovedou udělat několikrát do roka. Pro nevěřící přidávám pár obrázků z letošního srpnového jarmarku. Nechám to na vás. 
Nejbližší akce

27.04.2019
BAR U PRINCE - Děčín
Než budete na čarodějnicích křepčit kolem ohňů, přijďte potrénovat. Začátek ve 20:00.

30.04.2019
PÁLENÍ ČARODĚJNIC VE SVÁDOVĚ 2019
Pčed Restaurací koruna od 18:00 hod.

17.05.2019
Hospůdka Pivo Studené, Březiny
Hurá na hřiště za muzikou.