Články a reportáže
Datum: 21.03.2012
| |
Přečt.: 12319x
|
Hodn.: 5,00 z 5
|
Kom.: 11
|
Rub.:
Muzika
Tu Bílou Paní bych nikdy nikomu neprodal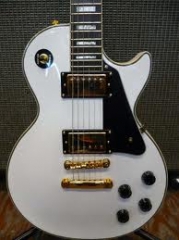 Ten den si pamatuju jako včera. Ten okamžik, kdy jsem si jí vybral. Byla krásná, bílá s oblými boky, zlaceným hardware jako pravá krasavice.
  Voněla novotou a rozhodně to nebyla lehká holka. Co by taky človek od Les Paulky čekal. Sice nebyla američanka, ale i korejky mají svůj neskutečný půvab. Když jsem jí držel v rukou, měl jsem vždycky pocit, že si rozumíme. Nikdy mě nezklamala, a trpělivě snášela mé hrubé zacházení. Pamatuji si jak mě bolel na srdci první škrábaneček, druhej už míň  a pak už jsem je nepočítal. Pamatuju si, jak mi spadla ze stojanu na festivalu v Karlových Varech, i to že přežila několik mrazivých nocí v garáži.
  Deset let jsme spolu vedli krásnej muzikantskej život. To je hooodně dlouhá doba, i na kdejakou zpěvačku. :-) Poslední dobou však už byla hodně unavená a opotřebovaná. Kdysi zlatý hardware vzal za své, pražce už jsou opravdu až příliš ohrané a tak nezbylo než buď vše opravit a vyměnít, nebo vyměnit úplně.
  Trošku jí podezírám, že je čarodějná.
   První pokus o náhradu skončil špatně. Mladou slečnu od rádoby pana Fendera jsem po jediné zábavě prodal do komise s prodělkem. Druhá nastupitelka z provedience Line 6 mě zradila po první hodině hraní. Tehdy jsem na plese znovu vyndal Bílou Paní znova a ona se mi odvděčila. Řekl jsem si: "Tak holka! Tohle je náš poslední flám!" a fakt jsme si to užili.
  Říkal jsem si, že si pořídím úplně stejnou Bílou Paní, ale nestalo se tak. Koupil jsem si trošku vymazlenějsí zelenošedivomodou paní. Stala se ale zvláštní věc. Když jsem si jí byl vyzkoušet ve zkušební místnosti prodejny kytary.cz, tak na stojánku v té místnůstce stála právě úplně stejná Bílá Paní. Jako by se přišla rozloučit Zlatovláska.
  A tak mám doma novou paní a přemýšlím co udělám s White Lady? Prodat jí nemůžu, po těch letech by mi to srdce utrhlo. Darovat nelze, musel by jí někdo stejně komplet opravit a už by se mu skoro vyplatilo koupit novou. Ale nakonec se upínám ke krásné pietní myšlence.
 Vezmu vrtačku, hmožděnku a koupím krásný špagát a pověsím jí ve své pracovně na čestné místo. Myslím, že ona bude ráda, že je mi nablízku a já budu při pohledu na ní vzpomínat ta krásný muzikantský časy, který jsme spolu prožili.
... PS: Je vůbec možný, že jsem tak naměkko?