Články a reportáže
Datum: 06.04.2012
| |
Přečt.: 12646x
|
Kom.: 12
|
Rub.:
Muzika

Jak si na nás Honza posvítil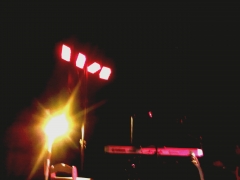 Začalo to tak, že Honza zadumaně seděl a významně pobafával ze své elektronické cigarety. Načež prohlásil; 'Už mě to štve' Popravdě to řekl úplně jinak, ale to by nebylo publikovatelné. Chvíli nám trvalo, než nám docvaklo, že už druhou pauzu civí na naší světelnou rampu. Pak nám došlo, že asi přijdou nějaké ty investice.
  A také se tak stalo. Jenda poté, co jsme mu demokraticky schválili nákup, jednoho dne přivezl krásná nová světla a tak si teď na sebe svítíme z každé strany jednou rampou. Sice když svítí červená, nevidím na akordy ale nevadí. Teď už jen hledáme výrobce kontroleru, který v rámci MIDI zvládne víc než kvantovou komunikaci. (Rozuměj - kvanta toho nedojde). Pak si na Vás připravíme opravdu už scénické svícení, zatím svítí automat.
  Pro zvědavce jsme díky Járovi získali opravdu kraťounké video. A pro opravdické zvědavce máme vzkaz: přijďte se podívat na vlastní tenisáky.