Články a reportáže
Datum: 02.01.2013
| |
Přečt.: 5797x
|
Kom.: 8
|
Rub.:
Muzika
Kam na B-BAND po novém roce?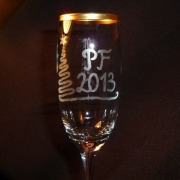 Ahojky v novém roce.
Ve víru událostí jako byl nenastalý konec světa, utrhlá hlava slováka, který si myslel, že si vyrobí lepší pyrotechniku než koupí, chaos kolem prezidentských voleb, zvýšení DPH a přinejmenším diskutabilní amnestie vám přeci jen přináším dobré zprávy.
Už konečně víme jak budou jezdit mašinky až do března a tak díky tomu víme volné termíny a už je začínáme obsazovat konkrétními akcemi. Tedy nakoukněte do kalendáře akcí ať víte, kam se za námi vypravit. Jisté je, že na své si přijdou návštěvníci Nebožtíka nebo Vinglu na Střekově, partička co na nás čeká na Kocandě, Myslivci na Střeláku v Děčíně a maturanti v Hotelu Vladimír v Ústí nad Labem a možná že bychom se mohli ukázat i v Dobkovicích ale to ještě není zdaleka jisté. Takže sledujte kalendář akcí B-BANDU.
PS: Novoroční závazky jsme si žádné nedali, ale jen tak na okraj se pochlubíme že já s Honzou už jsme vstoupili do nového roku jako nekuřáci... Honza dokonce s půlročním předstihem, já jen s měsíčním. Třeba vás to nainspiruje také..... Viď Jožínku? :-)
Nejbližší akce

19.07.2019
Hospůdka Pivo Studené, Březiny
V létě po parném dni na pivko a taneček ...

09.08.2019
Soukromá akce - MANE

16.08.2019
Hospůdka Pivo Studené, Březiny
Prázdniny v plném proudu, přijďte na taneček na hřiště