Články a reportáže
Datum: 05.02.2013
| |
Přečt.: 6027x
|
Hodn.: 5,00 z 5
|
Kom.: 5
|
Rub.:
Muzika
NOVÝ MUZIKÁL JAN JESSENIUS aneb zprávy z domácího studia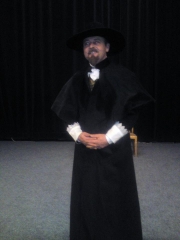 Stalo se, že mě oslovila partička lidiček říkajících si Hudební spolek Fénix z České Kamenice s prosbou, zda bych jim nepomohl s aranžováním nového muzikálu Jan Jessenius.
  Já jsem jim přislíbil pomoc a díky tomu mám nyní s prací ve studiu vystaráno až do května. Začátkem června má být totiž premiéra tohoto muzikálu.
  Muzikál pojednává o osudu lékaře Jana Jessenia a odehrává se na dvoře císaře Rudolfa II. Muzikál napsaly autorky Pavla Zemanová a Kateřina Stromková. Samozřejmě se ale na tvorbě podílí i další členové výše uvedeného spolku.
   Na mě teď je, abych všem písničkám ušil nový obleček v podobě nových aranžích rozepsaných pro spoustu nástrojů, všechno to nahrál a namíchal. Práce je s tím moc a moc, ale ohromě mě to baví a jsem napjatý jak se celé toto dílo této partičky bude líbit vám.
   Aby jste byli napjatí také, tak vám poskytnu dvě krátké ochutnávky zde.