Články a reportáže
Datum: 05.02.2013
| |
Přečt.: 3066x
|
Hodn.: 5,00 z 5
|
Kom.: 3
|
Rub.:
Muzika
NOVÝ MUZIKÁL JAN JESSENIUS aneb zprávy z domácího studia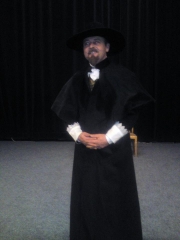 Stalo se, že mě oslovila partička lidiček říkajících si Hudební spolek Fénix z České Kamenice s prosbou, zda bych jim nepomohl s aranžováním nového muzikálu Jan Jessenius.
  Já jsem jim přislíbil pomoc a díky tomu mám nyní s prací ve studiu vystaráno až do května. Začátkem června má být totiž premiéra tohoto muzikálu.
  Muzikál pojednává o osudu lékaře Jana Jessenia a odehrává se na dvoře císaře Rudolfa II. Muzikál napsaly autorky Pavla Zemanová a Kateřina Stromková. Samozřejmě se ale na tvorbě podílí i další členové výše uvedeného spolku.
   Na mě teď je, abych všem písničkám ušil nový obleček v podobě nových aranžích rozepsaných pro spoustu nástrojů, všechno to nahrál a namíchal. Práce je s tím moc a moc, ale ohromě mě to baví a jsem napjatý jak se celé toto dílo této partičky bude líbit vám.
   Aby jste byli napjatí také, tak vám poskytnu dvě krátké ochutnávky zde.
Nejbližší akce

19.04.2019
Hospůdka Pivo Studené, Březiny
Krásná rodinná hospůdka na hřišti v Březinách. Přijďte si večer zařádit.

20.04.2019
DALIBORKA - Na poslední chvilku!
Přátelé, neplánovaně na Daliborce už od 19:00.

27.04.2019
BAR U PRINCE - Děčín
Než budete na čarodějnicích křepčit kolem ohňů, přijďte potrénovat. Začátek ve 20:00.