Články a reportáže
Datum: 02.05.2013
| |
Přečt.: 13966x
|
Kom.: 11
|
Rub.:
Muzika

Ve Svádově netradičně - jak se hrálo?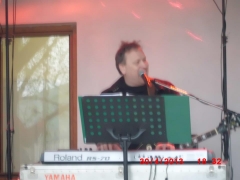 Tak nějak se tedy stalo, že Pepa nepřijel do Svádova na čarodějnice a tak jsme museli experimentovat, abychom své oblíbené Svádováky nenechali na holičkách.
  Spásná myšlenka nakonec přišla a my jsme oslovili našeho kamaráda Milana Volfa, který neváhal a přijel na záskok. Sice přípravy byly opravdu překotné a nakonec vše klaplo. Takže jsme si zajamovali jak se patří. Pro Svádováky, kteří vydrželi tančit navzdory větru a dešti to doufám bylo milé zpestření. Sice jsme občas překvapili i sami sebe, ale to už ke hraní z voleje jaksi patří. Ale o to to byla větší legrace.
  Takže Milan, my, vy jsme společně odolávali nekřesťanské zimě a počasí vůbec. Jen proud v zásuvkách si myslel něco jiného a občasné podpětí v síti nám tu tam vyhodilo sekvencer nebo vyresetovalo náš milovaný Lexicon v racku, ale i s tím jsme si nakonec poradili.
  Ještě jednou tedy Milane, díky moc!