Články a reportáže
Datum: 02.05.2013
| |
Přečt.: 18342x
|
Hodn.: 5,00 z 5
|
Kom.: 18
|
Rub.:
Muzika
NOVÝ MUZIKÁL JAN JESSENIUS aneb zprávy z domácího studia podruhé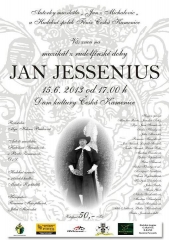 Tak tedy co nového?
No. Stálo mě to hrozně moc úsilí, ale k doaranžování mi zbývá jen jediná písnička a hudba k muzikálu bude nahrána. Musím říci, že jsem se tedy v nahrávání a vymýšlení za posledního půl roku opravdu pocvičil jak snad nikdy předtím. Teď už jen doufám, že to bude divákům, přesněji jejich uším lahodit.
Také jsem se seznámil s lidičkami, které jsem neznal a právě chystaný muzikál nás přivedl na společnou cestu.Navšívil jsem také několik zkoušek a musím tedy říci, že se opravdu máte na co těšit.
Také smekám před celým realizačním týmem, protože chystat takovýto projekt asi musí být někdy o nervovou soustavu, zvláště porkud neustále překonáváte překážky na té straně, kde by člověk obvykle hledal pomoc. Inu kultura je někdy z pohledu radních hned na posledním místě, ale o tom se nechci rozepisovat. Nemám v úmyslu sahat nyní někomu do svědomí.
Premiéra se blíží a přede mnou jsou i další úkoly, jako je třeba postarat se o nazvučení premiéry a ještě takových ten milion pidistarostí s tím spojených.
Musím ale říct, že se moc těším a vy se těšte také, protože muzikál není jen hudba ale i kostýmy, divadelní atmosféra,  energie přenášená s jeviště do hlediště a tak dále. Nic z toho rozhodně v premiérovém jídelníčku chybět nebude a pokud nechcete chybět vy. Zapiště si 15.6.2013 červenou pastelkou do diáře, protože na česká pódia vstoupí JAN JESSENIUS.