Články a reportáže
Datum: 19.06.2013
| |
Přečt.: 26556x
|
Hodn.: 1,96 z 5
|
Kom.: 8
|
Rub.:
Muzika

PREMIÉRA MUZIKÁLU JAN JESSENIUS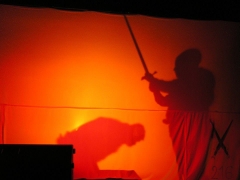 Tak a je to za námi.
Celé ty dlouhé týdny příprav se najednou smrskly do necelých dvou hodinek toku muziky, zpěvu, tance, dialogů potlesku, pláče i smíchu. 
  Upadly na zem dva velké kameny. První, když se sál naplnil a druhý když sál zněl potleskem a pobrukoval si v duchu melodii závěrečné scény.
  Opravdu si myslím, že je na místě poděkovat všem, kteří přišli už v pět odpoledne a vyměnili zahrádky, grilovačky či jiné fajnové aktivity za amatérský muzikál. Odpustili snad i drobné škobrtance, zejména vypadávajících bezdrátových mikrofonů, které mě mrzí o to víc, že jsme se si s Honzíkem vzali na bedra zvuk a světla.
  Také bych rád poděkoval autorkám a všem účinkujícím za důvěru, kterou mi dali, abych mohl tento muzikál jako muzikant aranžovat a tím pustit trošku té muzikantské fantazie na špacír na jejich scéně. Pro mě samotného to byla neuvěřitelně zajímavá zkušenost, tím spíš, že jsem nikdy podobný projekt nedělal. O to víc jsem byl mile překvapen, když jsem na generálce viděl poprvé vše v kostýmech a v barvách!
   Tady je mi trošku líto, těch, kteří nestihli premiéru. Mám pro ně ale dobrou zprávu. Reprízy se plánují a první bude už 23.11.2013 opět v České Kamenici. Takže o nic vlastně nepřišli. Zatím pro ně mám pár obrázků z premiéry jako malou návnadu.