Články a reportáže
Datum: 09.12.2013
| |
Přečt.: 20629x
|
Hodn.: 5,00 z 5
|
Kom.: 13
|
Rub.:
Muzika

OHLÉDNUTÍ ZA MUZIKÁLEM JAN JESSENIUS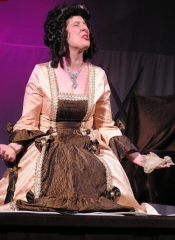 Tak a je to...
Muzikál Jan Jessenius má po premiéře i zdařilých reprízách. A tak zbývá trošku času k ohlédnutí či bilancování.
  Když vše začlo loni na podzim a já začal aranžovat první písničky, uvědomil jsem si, kolik to bude práce a jak hrozně moc rychle se blíží termín premiéry. Také mě ale napadlo jak moc zajímavá práce to bude. Bylo to pro mě pole neprobádané a tak jsem se do toho pustil po hlavě. Dokonce se mi stávalo, že mě ta hudba budila ze spaní a to spím jak špalek :-)
  Navštívil jsem několik zkoušek a tak jsem poznal tu celou skvělou partu nadšenců a došlo mi, že to vůbec není taková legrace organizovat tolik lidí. A zkoušku od zkoušky se začínala podoba muzikálu na jevišti pomalu vylupovat, stejně jako původní základy v MIDI souborech začala nahrazovat muzika natočená u mě doma ve studiu. Týden za týdnem ta podoba krystalizovala až jednoho dne bylo dopsáno a nahráno. Muzikál byl nazkoušen a termín premiéry se blížil horintním tempem. Nakonec uzrál nápad, že by jsme mohli s Honzou muzikál i nazvučit a začalo druhé kolo. Pečlivě si rozmyslet co bude potřeba, dokoupit spoustu kabelů, prodlužováků atd. Největší tajemství bylo deset bezdrátových, porůznu popůjčovaných, mikrofonů kde byl tedy kažý pes jiná ves. Stejné dobrodužství na nás čekalo ohledně svícení. Nikdy jsme nic takového nedělali. Ale říká se, že odvážnému, štěstí přeje a také nám přálo. Všechno fungovala a až na drobné chybky jsme premiéru zvládli.
   Obě reprízy jsme nahráli na videokameru a pořídili i audiozáznam, víceméně pro srandu králíkům ale dalo se z toho sestříhat vcelku zdařilé video se zvukem sejmutým z mixážního pultu.
Nyní se ještě pracuje na studiových nahrávkách i se zpěvy pro rádio Proglas.
Možná by jste se zeptali, jaký jsem z toho všeho měl pocit?
   Dobrý... moc dobrý!
   Byla to spousta zážitků od veselých až po bezradnost, když jsem seděl nad klávesami a snažil se přinutit hlavu k nějakému motivu, když se nedařilo. Musel jsem asi vypadat jako blázen, který dvě hodiny fouká brčkem do dvou sklenic vody, když jsem nahrával Elixír, píseň Magistra Kellyho.
Stejně veselé byly i zážitky na generálkách, kdy mnohdy herci dokázali z poměrně vážného tématu vyimprovizovat dokonalý kabaret. Mdloby, které na mě šly, když nám sedmkrát vypadl proud během generálky v Habarticích. Slzy dojetí když publikum stálo a tleskalo! Překvapení, když po týdnech civilních zkoušek všichni přišli na jeviště v kostýmech a začlo se svítit v barvách.
Strach, abych něco nepokazil za mixážním putlem. Napětí zda se moje aranže budou líbit autorkám Pavle Zemanové a Kateřině Stromkové stejně jako ostatním. Nadšení sdílené se všemi, kdo se na muzikálu podíleli. Smutek, když dozněly poslední tóny na poslední repríze, kdy už jsem věděl, že se právě tahle chvíle se  už nebude nikdy opakovat.
Také mě zarazilo jak půlroční práce, profičí očima a ušima během hodinky a půl.
   Teď se mi možná bude po tom všem trošku i stýskat, protože to byl takový hezký rok života obyčejného muzikanta. Písničky jako Soužím, Zvěsti, Dopis Jesseniovi, Falešní mí přátelé či Loučení Jessenia mi zůstanou dlouho pod kůží.
   Co říct na závěr? Snad jen to, že je nesmírně důležité, že ve světě stovek televizních kanálů, internetových dálnicí, reklamního kolotoče a vymývání mozků prostřednictvém médií, stále ještě existují lidé, kteří se dokážou sami postarat o kulturu a zábavu nejen sami pro sebe, ale i pro spoustu diváků ze širokého okolí.
 Těmto lidem tedy vzdávám i já svůj dík!
Pro zvědavce video z Reprízy v České Kamenici je ke stažení zde
Písničky z téže reprízy si můžete poslechnout zde