Články a reportáže
Datum: 12.01.2014
| |
Přečt.: 5045x
|
Kom.: 6
|
Rub.:
Muzika

MŮJ COUNTRY VÍKEND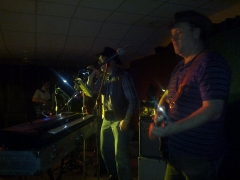 Tak se občas stane, že si jeden zahraje s kapelou do které vlastně nepatří.
Mě se to za poslední dobu podařilo hnedle několikrát. Minulý víkend jsem odehrál dvě
akcičky s pohodovou Country partičkou Ústecký Výběr a musím tedy říct, že to bylo prima. Na obou akcích v Jockeru v Ústí nad Labem bylo plno lidí, kteří se bavili a o to líp se mi hrálo.
Navíc již zmíněná parta je šlapací a tak jsem si opravdu skvěle zahrál a pocvičil nšco málo coutryových riffů, která bych málem zapoměl .:-)
Takže Míro, Miloši, Jiříku a Užovko díky.:-)
Nejbližší akce

19.04.2019
Hospůdka Pivo Studené, Březiny
Krásná rodinná hospůdka na hřišti v Březinách. Přijďte si večer zařádit.

20.04.2019
DALIBORKA - Na poslední chvilku!
Přátelé, neplánovaně na Daliborce už od 19:00.

27.04.2019
BAR U PRINCE - Děčín
Než budete na čarodějnicích křepčit kolem ohňů, přijďte potrénovat. Začátek ve 20:00.