Články a reportáže
Datum: 06.06.2014
| |
Přečt.: 22672x
|
Hodn.: 5,00 z 5
|
Kom.: 14
|
Rub.:
Muzika
B-BAND versus B-BAND MINI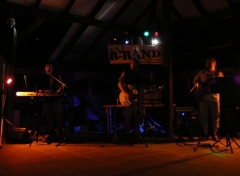 aneb co znamená, když hrajeme jen ve dvou.
Asi jste si všimli, že ne vždycky hráváme v kompletní sestavě s Jožinem. Hráváme i ve dvou, jen já s Honzou. Věřte nebo ne, neznamená to ani že se rozpadáme, nebo že se hádáme, vůbec nic takového. Důvod je velice prostinký. Někteří z nás mají povolání, kde se prostě pracuje v sobotu i v neděli. Jožin je mašinfíra, krásné povolání bezpochyby, ale samozřejmě tahle úžasná profese má i svá drobná úskalí. Stává se tedy, že Jožka je ve své mašině v době, kdy my hrajeme. Je to pro nás s Honzou o něco těžší a nikdy to samozřejmě nebude takové jako když je Jožka s námi. Prostě jsme na sebe zvyklí a je to pro nás stejně jako pro vás lepší zážitek.
  V podstatě ve dvou jsme začli hrát, abychom uspokojili poptávku po hraní B-BANDU v případě, kdy Jožin nemůže. Zkraje jsme se trošku potýkali s malinkými mouchami, než jsme si zvykli, ale už jsme se s Honzou trošku otloukli a zvládáme v pohodě.Takže tímto bych toto téma uzavřel, aby nebyly nejaké fámy o naší kapelce :-).
  PS: Kdyby se někomu druhý den po hraní B-BANDu MINI zdálo, že s ním nemluvím, tak je to proto, že jsem zpíval celou noc, zatím co se nějakej lotr celou noc ulejval, koukal na koleje, semafory a holky. Hlasivky občas trpí :-).