Články a reportáže
Datum: 30.06.2014
| |
Přečt.: 26771x
|
Hodn.: 5,00 z 5
|
Kom.: 49
|
Rub.:
Muzika
B-BAND versus B-PLUS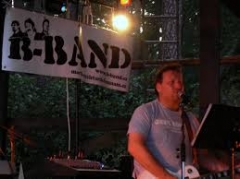 Aneb ono se to snadno poplete ...
Není to tak dlouho, co jsem vysvětloval rozdíly mezi názvy B-BAND a B-BAND-mini. To ovšem byla taková veselá historka.
A vůbec jsem ještě netušil, že se k podobnému tématu tak brzy vrátím. To už ale tak veselá historka nebude. Dnes jsem se dočetl na Facebooku trošku smutnou zprávu z hospůdky U Cinzana v Děčíně v Bynově.
Netýká se naší kapely. Týká se kapely se snadno zaměnitelným názvem B-PLUS a zní doslova takto:
"Omlouváme se všem za poslední zábavu, která se konala dne 28.6.2014. Byl to totální propadák, ale bohužel jsme netušili, že to takto dopadne. Na omluvu pro vás bude v pátek nová zábava, kde bude hrát p. Michálek skupina ZNOVA p.a.m. t.j. 4.6.2014 od 20:00 hod, VSTUP ZDARMA. Pan Michálek už u nás hrál, spokojenost byla takže pro vás budeme připravovat zábavy s kapelami, které už znáte a líbily se vám. Srdečně vás zveme..".  (originál zde)
Samozřejmě mě takové zprávy příliš netěší a už vůbec mě netěší velice, dle mého soudu, nevhodně zvolený název kapely B-PLUS. Skupina B-PLUS myslím nefunguje až tak dlouho jako B-BAND (cca 10 let) a myslím si, že možná mohli zvolit nějaký více určující název.
Ono totiž B-BAND a B-PLUS se velice snadno poplete, a navíc obě kapely fungují v jednom regionu a dokonce i na stejných štacích. Takže by se mohlo velice snadno stát, že pokud budou podobně záporné ohlasy na B-PLUS kolovat internetem, mohlo by to dělat naší kapele špatnou reklamu. Což se v případě Bynova právě stalo.
Takže zpráva pro vás: B-BAND – není B-PLUS.
Zpráva pro B-PLUS: Nechcete ten název kapely přehodnotit?