Články a reportáže
Datum: 06.08.2014
| |
Přečt.: 20004x
|
Kom.: 12
|
Rub.:
Muzika
B52V - BAND !! Co je zase tohle???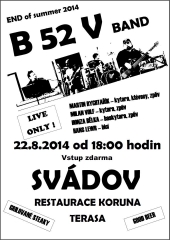 Zasvěcencům jistě neunikl plakát na zakončení léta ve Svádově. Vlastně je to pravidelná akce B-BANDU a teď najednou B52V-BAND! Je mi jané už teď, že si říkáte: "Co to zase je za vynález?". A já říkám "Žádný vynález, jen trošku muzikantské zábavy".
   Minulé čarodějnice nám ve Svádově vypomohl Milan Volf ze skupiny 52V a nám se to hraní líbilo a tak jsme diskutovali. Došlo to až tak daleko, že by nebylo možná špatné to zahrát někdy příště se živím bubeníkem, protože jsme stejně hráli jen s podkladem bicích. Tak proč zaměstnávat elektronické mrňavé japonské skřítky, když máme k dispozici živého šikovného skřítka právě z 52V?
   A tak tedy zahrajeme jako úplně živá kapela. Nám se ten nápad moc líbí ačkoliv jsem si s hrůzou uvědomil, co všechno se budu muset naučit na klávesy abychom se přidrželi i našeho standardního repertoáru. Nicméně, kdo se bojí, nesmí do sklepa a tak se tedy nebojím.
   Takže my teď se budeme chvilku připravovat a vy se přijďte podívat do Svádova.
Těší se B52V - BAND.