Články a reportáže
Datum: 17.01.2015
| |
Přečt.: 25323x
|
Hodn.: 5,00 z 5
|
Kom.: 56
|
Rub.:
Muzika

MYSLIVECKÝ PLES - STŘELNICE DĚČÍN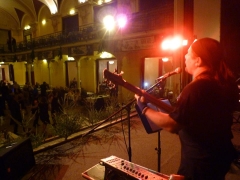 Tak a máme to za sebou.
Dotančíno, dohráno a my děkujeme všem, kteří přišlli s námi zakřepčit a těšíme se na další ročník.
Nevím jak Vám, ale nám to letos uteklo tak rychle, že jsme se sotva rozkoukali a už byly dvě hodiny.
Velkou radost máme z toho, že jste vydrželi na parketě od prvního taktu až do bigbošového finále.
Těšíme se na příště a přikládáme pár obrázků, jako návnadu pro ty, kteří příjdou příště.