Články a reportáže
Datum: 25.09.2015
| |
Přečt.: 7226x
|
Hodn.: 5,00 z 5
|
Kom.: 19
|
Rub.:
Muzika
Vzácný host U Nebožtíka aneb Díky pane z MANE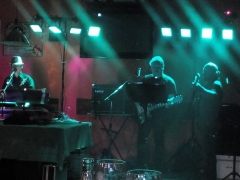 Inu alternací není nikdy dost.
O tom, že neplánované věci obvykle dopadají nejlépe jsme se mohli opět přesvědčit tento pátek U Nebožtíka na Střekově.
  Ve středu jsem se zapovídal s Honzou Matoušem ze skupiny MANE a padnul nápad, že by si s námi mohl zahrát z legrace v pátek U Nebožtíka. Ve čtvrtek jsme si zavolali a potvrdili si to. V pátek ráno mi přišel email, že kompletní repertoár zpracoval pro svého Tyrose (mašina od chlapců z Yamahy :-)) a zároveň se šel vyspat protože nad tím seděl dlouho do noci. V pátek přijel k Nebožtíkovi odpočinutý a svěží jako rybička a odehrál s námi jednu z nejhezčích zábav, které jsme kdy hráli.
  Navíc jsme díky songům z Mane trošku obohatili repertoár, takže pro ty co na nás chodí stále a věrně, to bylo dobré zpestření. Také to na nich bylo vidět. Takže jednou větou: Bylo to prima! Díky pane z MANE :-)
Nejbližší akce

27.04.2019
BAR U PRINCE - Děčín
Než budete na čarodějnicích křepčit kolem ohňů, přijďte potrénovat. Začátek ve 20:00.

30.04.2019
PÁLENÍ ČARODĚJNIC VE SVÁDOVĚ 2019
Pčed Restaurací koruna od 18:00 hod.

17.05.2019
Hospůdka Pivo Studené, Březiny
Hurá na hřiště za muzikou.