Články a reportáže
Datum: 13.10.2015
| |
Přečt.: 22626x
|
Hodn.: 5,00 z 5
|
Kom.: 19
|
Rub.:
Muzika
Cíca řekl...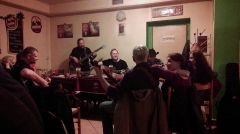 Občas se tak s Honzou zblázníme a zajdeme do šíleně malé, šíleně zakouřené, ale šíleně útulné hospůdky U Kostela. Vezmeme baskytaru a já jen dřevěnou kytárku a jdeme si jen tak zabrnkat. Většinou to bylo tak, že jsme byli jen dva plus občas Freddy a tak. Jednou jsme ale vzali s sebou lámoše Cícu a jemu se to mooc líbilo. Taky je pravda, že už jsme tu měli i Honzíka Lédla s dřevěnými housličkami
Minulý týden ale Cíca napsal jen tak mimochodem do zprávy na fb, že by s sebou vzal pár zámých. A nakonec nás bylo mnoho, mnoho vcelku. Docela jsem zíral, když přišel Roman Šimků a začal si stavět vedle mě svojí steel pedal kytaru, k mému úžasu dorazil i Cigis s banjem (!) a najednou  z nás tam byla v podstatě jakoby kapelka.
Hrálo se kde co, od úplně obyčejných písniček až po ty neobyčejné. Vše z voleje jak už to na těch jamech bývá.
Bylo to neskutečně příjemné a pohodové. hraní. Prostě i muzikanti někdy musí upustit páru a zahrát si jen tak, zadáčo, pro radost ze hry jako takové. A o tom to je.
Kluci dík..