Články a reportáže
Datum: 02.11.2015
| |
Přečt.: 70212x
|
Hodn.: 5,00 z 5
|
Kom.: 616
|
Rub.:
Muzika
MANE v MAXI sestavě, aneb rozhodně si nenechte ujít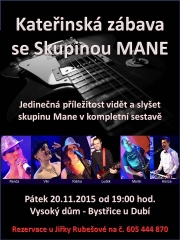 Tak tohle se často nestane!
Normálně články ve smyslu "zvadla" na tancovačky píšu málokdy, ale tentokráte udělám drobnou vyjímku. Má to svůj důvod.
Už to bude nějaký ten pátek, kdy jsme jako MANE hráli dvojsvatbu v Oseku u Duchcova, a když pominu, že pro nás muzikanty to byl skvělý večírek, tak svatebčané byli nadšení. A tentokráte přátelé to bude v šesti!!
Druhý důvod proč tuto vyjímku dělám je, že už teď se ví, že bude nabito. Proto tedy appeluji na ty, kteří se chtějí této trachtace zúčastnit, je nutno si zavčasu rezervovat místa. Toto je možné učinit telefonickou rezervací na tomto čísle: 605 444 870.
Takže neváhejte! Pro kámoše můžu prozradit, že jedu autem a můžu vzít čtyři lidi s sebou. Pochopitelně příbuzenstvo má přednost. Je jasný, že místa je potřeba si rezervovat.
Takže kdo jede?? :-)