Články a reportáže
Datum: 23.11.2015
| |
Přečt.: 16304x
|
Hodn.: 5,00 z 5
|
Kom.: 305
|
Rub.:
Muzika

Kateřinská zábava ve Věšáku v Dubí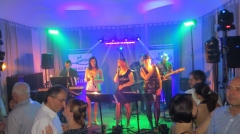 Začnu od konce...
Domluvili jsme se, že to bude tradice. A já jsem za to rád.
  Tahle partička se takhle pohromadě sejde asi zřídkakdy. Všechny nás pojí stejná značka MANE, ale všelijak různě alternujeme a scházíme se v různých sestavách na jednom pódiu. Tohle ovšem bylo domluvené dlouho dopředu a tak jsme se na to všichni těšili. Také jsme si to řádně užili a ti co přišli, užili si s námi.
   Uteklo to hrozně rychle a tak nám nezbývá než se těšit na příští rok. A vy si to určitě nenechte také ujít. Pro pořádek přikládám několik foteček.