Články a reportáže
Datum: 10.05.2016
| |
Přečt.: 15158x
|
Kom.: 18
|
Rub.:
Muzika
FUCK OFF - TRUTNOFF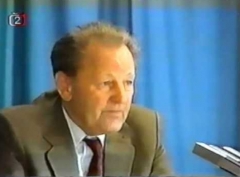 No tohle mi fakt hlava nebere!!!
  Skupina Už jsme doma přesně vystihla svým odmítnutím vystoupit na tomto festivalu skutečnost, že opravdu "už jsme doma". Alespoň mám poslední dobou ten pocit z toho,kam náš národ směřuje. Ještě, že se tohoto výstřelku Martina Věcheta nedožil Pan Prezident Havel. The Plastic People nezklamali a odmítli. Měl by to tak udělat každý, kdo nechce, aby ho hamba zfackovala!
  Docela si dovedu představit plejádu socialistických umělců, kteří by tam měli vystupovat, když už i generální tajemník UV KSČ bude přítomen. Inspiruj se Věchete! Jmenovat je nebudu. Sorry.
Obvykle zde píšu věci s lehkou nadsázkou a humorem, ale dnes jsem opravdu nas..nej! Fakt mě mrzí, že tak suprovej festival došel až takového poklesku.
  A co ti ostatní? Jandové a jiní?.. 
  A co na to Jan Tleskač?... Pověz pověz Zelený Raule!