Články a reportáže
Datum: 16.05.2016
| |
Přečt.: 17368x
|
Kom.: 8
|
Rub.:
Muzika

Klub mladých techniků v B-BANDU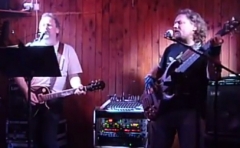 Tak a je to!
  První fáze velkého programování našeho světelného parku, je za námi. Honzík ležel, vlastně seděl, asi tři týdny v programování a náš dávný sen se začíná pomalu měnit ve skutečnost. Naše nová disciplína se jmenuje "Sviťme v rytme" a musím podotknout, že nás fakt začala bavit. Prostě jsme si jednou usmysleli, že každá písnička, kterou zahrajeme, bude mít i svůj vlastní světelný scénář. A jakmile my se jednou do něčeho zblázníme, nedáme si pokoj, dokud to nebude. To my zase jo! Teď už jen trošku času na trošku toho hraní s těmi lampami. Postupem času, získá opravdu každá písnička, svojí vlastní vizuání tvář. Jupí!
   Dalo to fušku trošku prolomit tu technologii, ale už jsme se to naučili. Pro kamarády muzikanty říkám dopředu, že know-how nevykecáme :-) Stálo nás to opravdu hodně úsilí. Pro naše příznivce je to pozvánka - přjďte se podívat.
Mohl jsem vybrat nějaké jiné video, kde by ta vizuální stránka věci byla více zřejmá, ale to bych vám ušetřil nožičky na kukandu. A to zas já ne! :-)
  Kdyby se Vám zdálo, že jsme trošku přiopilí na záznamu z Ludvíkovic, tak opravdu jsme. Trošku jsme doslavovali Honzíkova novorozrného synka Oldříška. Pokud se Vám zdá, že jsem sáhnul na kytaře o kilo vedle, tak jsem sáhnul skutečně na plnokrevného souseda. Pokud se vám zdá, že hraju na kytaru flétnu a saxofon, tak nemusíte přestávat hulit, je to pravda..
 Honzíkovi děkuju za kýbl šílený práce...