Články a reportáže
Datum: 28.05.2016
| |
Přečt.: 45100x
|
Hodn.: 5,00 z 5
|
Kom.: 108
|
Rub.:
Muzika

O jedné zahradní svatbě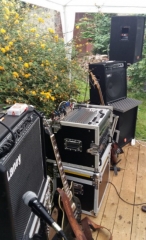 Ono se mi jeden čas pozdávalo, že všechny ty svatby jsou povětšinou pro muzikanty takové dobrodružství s různorodým koncem. Odehrál jsem jich už spoustu a čím dál tím víc mám pocit, že je to vlastně jen o lidech. Někdy si jeden může rozrthat zadnici o mraky a svatba se ne a ne překlopit v pohodovou zábavu. Jak zpívá kolega Marek Eben " A vono ne a ne a ne!" Nejhorší bývají ty nejvíc nastrojené, za ty největší náklady. Všichni nažehlení a nastrojení, upjatí, škrobení a studení, s rauty, za které by se nestyděl nejeden filmový festival. Jeden by se bál, aby mu neupadla vidlička, když ochutnává jelení paštiku či flambované chrousty.
  Stává se ale někdy i to, že si pohodoví lidé uspořádají pohodovou svatbu. V sobotu jsme jednu takovou s Honzou hráli. Konala se v malé vesničce poblíž Teplic a konala se pod širým nebem v sadu mezi stromy, včelíny, stodolou a domečky sousedů.
  Nikdo se tam nepředváděl s novým Mercedesem, večerní róbou a naditou prkernicí. Účastníci zájezdu zkrátka k sobě byli vlídní. Všichni si točili svoje vesměs malá pivka u sudu, který stál na studni. Všichni tančili a bavili se od prvních tónů až po ty poslední. Byli veselí, pohodoví a sví.
  Muzikantský národ hnedle opomene i malinký stan, který nás měl ochránit, před průtrží mračen a trošku bojové podmínky, se kterými je nutno se občas vypořádat.
  Ale nebe nám bylo všem milostivé. Bouře nás míjely a vlastně ani nekáplo, ač napříč republikou se čerti ženili To asi ten nejvyšší muzikant, co bydlí nahoře si přál, aby vše bylo tak, jak má být.
  Snad bude přát i novomanželům.
My jim přejeme vše nej. To každopádně!!!
PS: Moc děkujeme Honzovi Hečkovi za obrázky!