Články a reportáže
Datum: 18.06.2016
| |
Přečt.: 29570x
|
Hodn.: 6,00 z 5
|
Kom.: 25
|
Rub.:
Muzika

Víkend, kterým jsme se nechali překvapit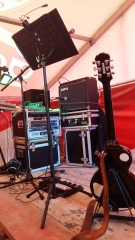 Tak máme za sebou víkend, na který jsme se hodně těšili.
Hráli jsme na dvou místech, na kterých jsme nikdy nehráli a tak jsme byli docela zvědaví, jaké to vlastně bude.
  Štěstěna nám přála již v pátek, kdy jsme hráli v Pivnici Na Hnátě na Klíši. Oba dva jsme si pamatovali tuto legendární hospůdku z hooooodně dávného mládí a byli jsme zvědaví jak to funguje dnes. Nutno říci, že to funguje skvěle. Nejvíc nás překvapilo věkové spektrum publika sestavené od studenstva z nedalekých kolejí až po seniory. Muzika se líbila naštěstí všem a pro všechny také máme myslím dobrou zprávu, že se určitě Na Hnátě ještě objevíme.
  Na druhý den jsme se vypravili odpoledne na Pivofest do Jílového u Děčína pořádaný Restarurací Tropical. Smekám před pořadateli, které nezaskočil ani několikanásobný přívalový déšt doprovázený bouřkou. Právem je návštěvníci odměnili svým počtem. Jedním slovem, suprově zvládnutá akcička čítající cca 200 -250 návštěvníků. Hráli jsme do osmé hodiny večerní, kdy nás vystřídala skupina Falzet. Pravděpodobně jsme se ani v Jílovém neobjevili naposledy, jak nám bylo naznačeno.
  My děkujeme všem, kteří nám věnovali o víkendu svůj čas a přízeň a těšíme se na příště.