Články a reportáže
Datum: 07.01.2017
| |
Přečt.: 22714x
|
Hodn.: 5,00 z 5
|
Kom.: 21
|
Rub.:
Muzika

Nestává se to často a proto děkujeme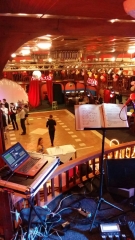 Nestává se to často a o to víc nás to potěšilo. V pátek 6.1. jsme hráli na maturitním plese v MC Koloseum v Krupce. Hraje se tam z poněkud vyššího pódia, než kdekoliv jinde, Přesněji pódium tvoří balkón, který je opravdu hodně vysoko. Je to zajímavůstka, ale trošku problém pro kapely. Když si odmyslím, zpěvačky, které by zde mohly mít fóbii z výšek či z toho že jim je vidět pod minisukně, úskalí spočívá v tom, že je opravdu nesnadné nastěhovat po schodech aparaturu na toto jinak velice zajímavé pódium. Viz obrázky.
 My jsme ale měli velké štěstí na hodné lidičky. Maturanti z Gymnazia Jana Amose Komenského  v Dubí nám velice ochotně pomohli odnosit všechny naše aparáty po shodech nahoru a pro změnu jejich tatínkové nám pomohli je ve tři ráno pomohli pro změnu odnosit dolů. Ono se to nezdá, ale pro nás to byla pomoc obrovská. Takže: velké díky a palec nahoru! Díky. Přejeme všem aby zkoušku z dospělosti zvádli bez ztráty kytičky.