Články a reportáže
Datum: 18.07.2017
| |
Přečt.: 27292x
|
Hodn.: 4,64 z 5
|
Kom.: 14
|
Rub.:
Muzika
B-BAND versus protikuřácký zákon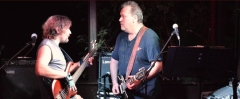 Vážení přátelé,

jelikož nám není jedno, jakou nehoráznou drzostí si stát přivlastňuje
právo rozhodovat o cizím majetku, tím myslíme zejména soukromé restaurace
a hospody. Ty pochopitelně někomu patří a ten by si tedy měl sám určovat pravidla,
co se v nich bude dít! Proto podporujeme petici pro zrušení protikuřáckého zákona.
Není prostě přípustné, aby někdo někomu zakazoval kouřit v jeho vlastních,
legálně nabytých prostorách a drze je prohlašoval za veřejné!
Navštívil jsem tedy pana Míku v Berouně, který nastartoval celonárodní
petiční akci a nabídl mu pomoc se šířením této petice.

Tedy počínaje dneškem, vozíme s sebou petiční archy a pokud s námi souhlasíte,
je možné je podepsat na jakékoliv naší hudební produkci. Taktéž se pokusíme
petiční archy předat ve všech místech, kde budeme hrát, pokud o ně majitelé projeví zájem.

Samozřejmě je možné se přidat do FB skupiny "Chceme vyjímku, chceme v hospodách kouřit",
která byla za tímto účelem zřízena a být v aktuálním dění kolem této iniciatyvy.
Petiční archy je možné stáhnout na FB v této skupině ale i na našich stránkách zde.
Do poslanecké sněmovny a do senátu již bylo předáno k dnešnímu dni více než 25,000 podpisů
a je tedy velká naděje, že pokud to nevzdáme, bude se s tím něco dělat a nebudeme si muset nechat líbit
podobně sprosté zákony, popírající základní demokratické principy! To už tady jednou bylo!

Děkujeme všem, kteří se k našemu boji proti státní šikaně přidají.