Články a reportáže
Datum: 19.11.2017
| |
Přečt.: 42330x
|
Hodn.: 4,90 z 5
|
Kom.: 101
|
Rub.:
Muzika
Proč lidé dělají muziku, a proč já?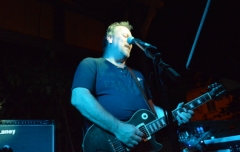 Těžko se to vysvětluje těm, kteří na jevišti nikdy nestáli. Těm kteří nikdy nepřivoněli
k právě koupenému nástroji. Nesáhli nikdy na mixážní pult. Nezažili opojný pocit rozsvícených
pódiových ramp. Nenasadili ztrémovaní poprvé sluchátka ve studiu a neuslyšeli v nich ono... tak jedem! Neslyšeli nikdy potlesk za svůj song. Nejeli ospalí v pět ráno v autě spících kamarádů a aparatury. Vlastně je to takový svět sám pro sebe. Zdánlivě.
  Ale to všechno přichází tak postupně a chová se to úplně přesně jako droga. Začíná to drnkáním na španělku a prvními akordy a bolavými bříšky prstů. U mě to začalo ve dvanácti letech. Začíná to prvním přehraným zpěvníkem obvykle ručně sepsných písniček posbíraných od kamarádů. Já jsem je ukradl bráchovi. Sorry brácha. Po dlouhém mučení se doma zalezlý někde v koutku anebo v akusticky milosrdné izolaci rozlehlé zahrady, parku atd. přijde ten velký okamžik, kdy se člověk osmělí a zahraje něco někomu. Pionýrský tábor, táborák, lavička v parku nebo učitelská katedra na pionýrské nebo skautské schůzce jsou ty nejpravděpodobnější lokality.
  A pak to přijde. Někdo si začne pobrukovat, zatleskne, zapíská nebo pochvalně zamručí, či jiným způsobem vyjádří, že se mu to alespoň trošku líbilo nebo spíš, že to nebylo tak strašný. V tu chvíli se dostaví první zlomový okamžik muzikantovy kariéry lhostejno jestli skončí ve Wembley anebo na lavičce v tom parku. Dostaví
se odměna v podobě toho, že někoho potěšil. Někdy bývá spojena s nesmírnou pýchou na sebe sama, nebo s pocitem, že má dotyčný zalézt sto metrů pod zem. Také dojde ke strašnému zjištění, že funguje něco jako tréma.
  Od té chvíle je muzikant na cestě, na které může potkat kohokoliv a cokoliv. Teď může nastat milion scénářů, ale já se přidržím toho svého, protože ten mohu odvyprávět doopravdy. Stane se další zlomová věc. Muzikant potká dalšího muzikanta a vyzkouší si zahrát společně. Je to skvělej pocit ať to ladí nebo neladí a i kdyby to mělo znít
hůř než tchýně, droga se stane společenskou drogou. Muzikant postupně zjistí, že je žádoucí aby každý z muzikantů hrál trošku něco jiného a obvykle ten šikovnější bude mít tendenci zkoušet vyhrávky a sóla,  tak trošku na úkor svého kolegy, který se spokojí s doprovodem, se kterým v mnoha případech ještě bojuje. Takže najednou už v tom parku sedí dva a hrají to co se stihli trošku naučit. Kolem nich posedávají kamarádi a také kamarádky tu s cigaretkou tu s vínkem. Objeví se obvykle i fanynka, která se do muzikanta zamiluje právě pro tu stokrát zahranou písničku. Neznalý světa muzikant se zamiluje a na dlouhých pocházkách se svojí první láskou se jí svěří, že by chtěl hrát i něco jiného než Olympic, Stánky a Dajánu a v hlavě mu uzrají dva nápady. Jak docílit toho aby mu první láska dala první intimní zkušenosti a jak napsat vlastní písničku pro onu první lásku, čímž si vlastně odpoví sám na tu první otázku.
  Nastává další zlomový okamžik. Za pomoci pera. Stohu papíru. Cigaret, vína a podobných jedů se konečně narodí první písnička. Kamarádům z parku sice připadá infantilní, ale ona je z ní nadšená. Muzikant se v dohledné době dočká i zajímavější odměny za svoje úsilí než pochvalného mručení svých kámošů. Stane se také, že se po nějaké době rozejde se svou prvoláskou a napíše podstatně kvalitnější song, za který se dočká opět pochvalného mručení kámošů a fůry rad jak se s tím vypořádat.
  Nastane ale i chvíle, která je srovnatelná s prvními hrátkami s první láskou a tou je nepochybně koupě nového nástroje. Tím se spustí nekonečný koloběh, který trvá celý život, ale první nový nástroj je jen jeden. Muzikant pobíhá po krámech (já nepobíhal, v Ústí byl jen jeden) a vybírá. Kritérií je spousta, lákadel a rad trojnásob, ale nakonec si muzikantík
vybere tu svojí vysněnou kytaru, piáno, baskytaru či hoboy a odnese si nový nástroj domů. Vybalí ho z krabice a  ta vůně novoty v něm zůstane už navždycky. Voní lépe než první láska a maminčina svíčková. Nastane období, kdy je málo chvil, kdy muzikant pustí svůj přírůstek z ruky. V pokoji je mu vyhrazeno čestné místo a nikdo se jej nesmí dotknout. Ani maminka
s prachovkou v ruce. Netrvá to ale dlouho. Nástroj je po čase odnesen do parku a po nějaké době, či pádu, obdrží první oplakaný šrám. Každý muzikant potrdí, že bolí ten první šrám, pak už si na to člověk nějak zvykne a po čase mu začnou imponovat otlučené a ohrané nástroje profíků. Pak už se kolotoč nakupování nových, lepších nástrojů stane trvalou zátěží
peněženky muzikanta, který už nikdy neskončí. Samozřejmě, každý další kousek na stupínku je dvakrát tak dražší. Inu tak to je.
  Nastává další přelom v životě hráče. Tím je zařízení zvané hospoda, putyka, nalévárna či bar. Ke svému zděšení hráč na akustickou kytaru zjistí, že komorní prostředí parku je pryč, kámoši sice zůstali, ale je potřeba udělat dvě věci. Pořídit tvrdší trsátko a naučit se řvát. Je to děsivé zjištění, ale může přinést ovoce, které se jmenuje drive. To dotyčný hospodský kytarista docení až po létech, kdy mu zvukař řekne "vytvoř signál vole", hráč třískne do kytary a zvukař pokýve hlavou a řekne "ok". Hospoda může ale život muzkanta obohatit i jinými dary. Například může zjistit, že když nemůžu chodit, nemůžu ani hrát (i když z vlastní zkušenosti vím, že to jde). Může ale mimo jiné i narazit na fůru lidiček a hlavně potkat i jiné muzikanty, se kterými se dá utvořit magická věc jménem kapela. To je opravdu to nejzajímavější. Každý v kapele je osobnost. Každý sní o vyprodaných  koncertech nebo tancovačkách. Každý má vlastní vizi, kam by se kapela měla ubírat. Důležité je, aby se nakonec vybral někdo (po úvaze, dohodou, nejstarší, nejzkušenější, bitkou, losem atd.), kdo se ujme kapelnictví. Dejme tomu, že je to náš muzikantík.
  Nakonec se konečně dohodne co tak asi kapela bude hrát. Mnohdy i kdo na co bude hrát. Takže vznikají přeučení basisti z kytaristů, klávesistky ze zpěvaček a podobně. Nastane něco, co je krása ale i opruz. Nebo krásnej opruz. Zkouška. Trvá nějaký čas než muzikanti zjistí, že zkoušet není od slova pokoušet se ale vyzkoušet. Po nějaké době, obvykle asi tak rok, všichni přijdou na to, že je dobré chodit včas, připraven, s trsátkem, s nástrojem, kabelem, střízlivej, nerozhádanej s přítelkyní bez přítelkyně atd. a kapela začne fungovat. Nejzdatnější přinesou své songy, anebo taky ne, a poskládá se po mnoha výměnách názorů a diskuzí v oblíbené kapelní putyce něco jako pevný repertoár. Ten se nacvičí a kapelník po věčném telefonování, podbízení se a obcházení klubů a hospod sežene první kšeft za pivo a za párek. A jde se na to. Po nějaké době se zjistí, že se dá hrát i za peníze. Což je milé.
  Zkušenost první je srovnatelná s prvním sexem. Čili očekávání obrovské, výsledek nevalný. :-) Najednou se zjistí,že se všichni slyší nějak úplně jinak než v garáži či ve zkušebně, že mnozí trpí neskutečnou trémou, která jejich výsledky sráží na třetinu. Že zkušenější
mazáci, které jsme doposavad nepovažovali za konkurenci jsou na míle daleko před námi. Nakonec se to ale nějak srovná, a muzikant má za sebou první hraní na jevišti. Je to návyková a také opojná záležitost. Čím častěji se opakuje, přibývá na jistotě, ale také
na účinnosti této drogy. Muzikant zjistí po čase nejkrásnější věc na muzice. Tou je energetická výměna. Droga se stává návykovou. Publikum přebírá energii od muzikantů na place a muzikanty nabíjí energie z hlediště či parketu. V ten okamžik začne být muzikantovi jasné, že má právo jíst ovoce, které mnozí nikdy neochutnají. U některých zmizí tréma a už jí zažívají málokdy. U jiných se projeví touha po perfekcionalismu a tréma je součástí jejich muzikanství navždy. Ideální je poměr tak púl napůl. Asi.
  Nastává hektické období ježdění po klubech, festivalech, soutěžích tancovačkách a po všech čertech obecně. Kupují se aparatury, nástroje. Zábavoví hráči se vybavují vším možným. Kupují se dodávky, kombíky, tisknou navšívenky pořizují se webové stránky. Zkouší se nové a nové songy. Také to ale bývá období vzdělávání se, poslouchání všemožné muziky, hledání inspirace, čtení básníků. To vše do prvního rozpadu kapely. Potká to hodně lidí. Někteří z nich to vzdají. Už si třeba nedovedou představit jinou partu. Většina z nich se ale zvedne a založí něco nového, třeba i několikrát. Někteří se stanou věčnými garážovými zakladači a zkoušeči nových kapel. Někteří se ale poučí z chyb, neb nedokážou odolat té opojné droze jménem energetická výměna a pokračují a pokračují. Nakonec se někdě ustálí a žijou si s prima kámošema prima muzikantský život. Mnohdy na jiné úrovni než byly jejich mladické ideály.
  Snem každého muzikanta, především těch co píšou vlastní muziku je studio, přesněji nahrávat v profesionálním studiu. Jednou či dvakrát se to někde vyzkouší, aby se to ochutnalo. Obvykle se tomu říká demáč, tedy nahrávka vlastní tvorby natočená v nějakém
tom studiu. Vyberou se dva tři kousky, které se nejvíc líbí fanouškům, kámošům, přítelkyním či maminkám a jde se natáčet. To sebou přináší několik šokujících zjištění jako je, metronom, opětovná tréma, zvukař vám řekne, že neumíte zpívat, hrát, neznáte harmonii, feeling, máte staré struny a tak podobně. Nakonec ale kapela odvede nějaký výkon a mistr zvuku to povýší nad možnosti kapely a hnedle je co pouštět kámošům, babičce, fanynkám atd. Je ale také co studovat a učit se z chyb. Jednoho dne to ale dospěje k natočení desky, třeba, objíždění rádií poskytování rozhovorů a zasvěcenému povídání o muzice a kapele vůbec. To jsou příjemné stránky věci. Náklady na tu desku obvykle bývají to trpčejší jablíčko. Inu co.
   Přijde další zlomový okamžik na který čeká každý muzikant. Slyší se poprvé v rádiu. Je to okamžik srovnatelný s koupí prvního nástroje, prvnímu ochutnání soli, alkkoholu, sundání první podprsenky. Ne! kecám! Je to ten jeneskutečnějí okamžik v muzikantském životě.
Muzikant ho nikdy nezapomene. Bude si nadosmrti pamatovat, kde a kdy slyšel svojí věc prvně v rádiu. Pro autory je to zážitek ještě na druhou. Moje dílo! Panečku! A hráli ho v rádiu! Je jedno jestli je to celoplošné rádio (to se mi nikdy nepovedlo) anebo krajský rozhlas. Opojení je neskutečné a neopakovatelné.
   Rád bych ten příběh vyprávěl dál, ale není kam. Víc toho náš modelový muzikant s kapelou nedokázal. Neznamená to ale, že víc zažít nelze. Existuje ještě opojný svět techniky, aparatur, světel a domácího studia. Také svět aranžování, psaní muziky, zvučení a zájmu o muziku vůbec.   Je úplně jedno nakonec, u čeho muzikant zůstane. Jestli bude hrát s kapelou do konce svých sil, nebo bude chodit s partou chlápků hrát country pro radost do hospody na růžku, nebo tancovačky v malé partě (můj příběh), nahrávat si doma v domácím studiu svoje věci, nebo si jen občas vzít kytaru nebo si sednout k piánu, zvučit, poslouchat a třeba jen vzpomínat. Muzika je láska na celý život. Až jednoho dne přijde můj poslední den, budu myslet na své blízké, ale i na tu muziku. Muzika mi spoustu věcí vzala a spoustu
věcí dala. Dala mi zažít pocit, že má smysl napsat písničku, že má smysl zahrát kytarové sólo od srdce, že má smysl zahrát zadarmo pro někoho, kdo je postiženej, že má smysl, jen tak pohladit klapky opušěného piána, že má smysl utrácet ty peníze za nástroje, aparatury a studio, že má smysl si jako zkušenej hráč v hospodě zahrát třeba s někým, kdo to moc neumí a právě začíná, že muzika není Formule 1, že muzikantství je dar od Boha, kterého je třeba si vážit, že je to dědictví té naší České kotliny a že v muzice není nikdy nic samo sebou. Až přijde ten den, tak budu vzpomínat na všechny tváře, které jsem z pódia viděl a na všechny uši, které mě chtěly poslouchat.
  Tak to jsou asi důvody proč lidi dělají muziku. Alespoň tak to vnímám já. Jsem rád, že patřím do té velké party lidí, kteří to mají stejně jako já.
Do party krásnejch bláznů, hráčů a snílků...