Články a reportáže
Datum: 20.07.2018
| |
Přečt.: 43394x
|
Hodn.: 5,00 z 5
|
Kom.: 124
|
Rub.:
Muzika
Vše nej Honzo ke tvým padesátinám.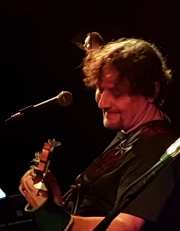 Tak tedy:

Honzovi je dnes "pade". Zvláštní to okamžik a taktéž zvláštní příležitost pogratulovat, popřemýšlet, povzpomínat i pobilancovat.
  Znám toho týpka od svých cca 18 let. (jen odhad). Pojí nás spousta věcí. Podobné koníčky, podobné myšlení i stejné kamarádství.   Jednou jsem řekl: "Kdybych hrál s Honzou a byli by jsme k sobě zády, věděl bych, kdy udělá synkopu a věděl bych přesně jak bude dlouhá.."
Tak je to totiž! To se nedá secvičit, vydřít ani jinak zařídit. Na to jsme my
malí páni. To my neřídíme. Možná někdo shora si usmyslel, že zrovna my dva to
budeme tak mít. Nutno říct, že to zdaleka není jen o té synkopě.  Na vysvětlenou. Je v tom spousta dalších elementárních a naprosto důležitých věcí.
  Kdybych se  měl o tom všem rozepisovat, nebyl by to článek, ale takový malý román.
Román o velkém kamarádství, román o stejném tahu na branku, román o osudech,
vypitých půlitrech, vykouřených stovkách cigaret, prokecaných nocí v autě o
Billu Gatesovi (ve zlém), Arthurovi Clarkovi (v dobrém),o muzice vůbec o všech těch¨
malých" i "velkých! věcech, ze kterých se život sestává.   Jednou větou: Máme k sobě blízko a čím jsme starší tak možná blíž a blíž.
  Asi by bylo vhodné mu popřát hodně zdraví, síly a štěstí do dalších padesáti let.
To mu samozřejmě z celého srdce přeju, ale také bych mu rád poděkoval za spoustu těch zmiňovaných malých i velkých věcí, za spoustu času, který mi věnoval a hlavně za to,
že jsem měl tu šanci ho vlastně potkat.
Honzo díky!