Články a reportáže
Datum: 24.08.2018
| |
Přečt.: 27197x
|
Hodn.: 6,00 z 5
|
Kom.: 49
|
Rub.:
Muzika

Katapult - koncert, na který jsem si počkal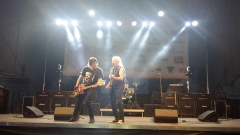 Když v tituku píšu, že jsem si počkal, tak tím skutečně myslím, že jsem si počkal.
Na Katapult jsm se v minulosti vydal už dvakrát. Jednou do Bělé u Děčína, kde se koncert kapely proměnil v akustický koncert písničkáře Oldy Říhy. Samozřejmě důvodem byla zdravotní indispozice již zesnulého Dědka Šindeláře. To se dalo pochopit a v konečném důsledku se jednalo o ojedinělou záležitost.
  Když jsem se vypravil na kapelu podruhé na Děčínské nábřeží, skončilo moje čekání na Katapult další katastroou. Vše připraveno, kapela kompletní, ale město děčín nedokázalo na nábřeží dodat dostatek proudu pro zvuk a světla. To jsem byl ale doopravdy vytočenej. Pak vlastně Katapult nějakou dobu nebyl k vidění a pak jsem se s nimi deset let míjel.
  Až letos na dovolené v západních čechách v rámci oslav města hráli na náměstí v rámci oslav Města Tachova. To jsem si už ujít nenechal. A dobře jsem udělal. Opravdu super koncert. Mladá krev v kapele hrála výborně a Olda jako frontman pobíhal po place skoro jak třicátník. Opravdu klobouk dolů, když si jeden uvědomí, kolik mu vlastně už je. Jinak super zvuk, plné náměstí a skoro dvě hoďky bigbítu jako řemen. Inu stará škola. Takže jsem se nakonec přeci jen napotřetí dočkal. Takže když jsem v první řadě pořvával s davem "Někdy příště", tak tím myslím, že někdy příště bych si dal repete.