Články a reportáže
Datum: 02.09.2018
| |
Přečt.: 189x
|
Hodn.: 5,00 z 5
|
Kom.: 10
|
Rub.:
Muzika

Pár fotek z CORSA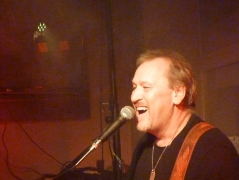 V Corsu v Děčíně hráváme pravidelně už hezkých pár let a zvykli jsme si, že Vás chodí opravdu hodně.
Přesto nás ale mile překvapil poslední večer. Už když jsme zjistili, že je celá hospoda beznadějně vyprodaná, včetně barových stoliček, tak jsme začli tušit, že by to mohl být super večer. A také že byl. Byli jste skvělí a přesto, že jsme hráli druhý den po sobě, zapoměli jsme na veškerou únavu a hráli jak o život. Za mě tedy: jednoznačně nejlepší zábava v Corsu, kterou jsme kdy hráli. Přikládám několik uloupených foteček.
Nejbližší akce

26.10.2018
KLUBOVÁ RESTAURACE U KARLA IV. - Ústí nad Labem Střekov
Blží se zima a tak máme další variantu, kam na B-BAND na Střekově. Startujeme v 19:00 hod.

27.10.2018
Dýňohraní - Areál zámku Jílové
Akce pro děti i dospělé od 14:00 hod.
Ne tedy že by jsme hráli na dýně, ale všichni si mohou přijít pohrát s dýněmi:-)

03.11.2018
Puntíkovaná zábava v Žitenicích
To by mohlo být dobré, ne?