Články a reportáže
Datum: 10.03.2019
| |
Přečt.: 20316x
|
Hodn.: 5,50 z 5
|
Kom.: 67
|
Rub.:
Muzika
Samohrajkáři versus nesamohrajkáři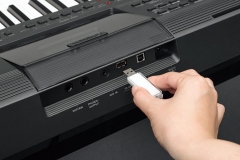 Tak jak je to tedy?
S nástupem MIDI se kdysi vyrojila spousta kapel: Duo Hyper Hits, Pop Super Hyper Trio,
Multi player a jeho Frau, Galaxis Songs, Koblížek a jeho Yamaha, Vašek a tři Evy a spousta dalších.
  Pokud jsem se nechtíc trefil nějakým názvem, tak se omlouvám, vyjma Vaška a Evy.
Pamatuji na zábavovém kolbišti vlastně i nějaké ty průkopníky MIDI. Tehdy to ale zdaleka
taková legrace nebyla. Člověk musel koupit PC, trošku se vyznat v MIDI a tak dále.
Pro mnohé muzikanty to byla, k neštěstí bubeníků a basistů, cesta jak nehrát za pár kaček
a za ty zábavy nějakej ten peníz vydělat. Vzala se zpěvačka, klávesák a kytarista a bylo.
Nebohý klávesista studoval knihy Daniela Forró a snažil se nějak se dopinožit k uvěřitelnému
výsledku, mnohdy na neuvěřitelných strojích.
  Všichni si postupně zvykli na kapely o dvou, třech lidech a někdy i na one man show.
Nakonec proč ne? A někde tady se to pokakalo!
Výrobci kláves (s drtivém případě YAMAHA) vycítili díru na trhu a začali se přizpůsobovat.
Najednou se objevily modely, kde v podstatě člověk dokázal zahrát dvěma prsty Dur a Moll a pokud nebyl úplně blbej, tak zahrát i nějakou tu melodii pravou rukou. Revolučních 8 stop automatického doprovodu na PSR 410 mnohdy postačilo, aby dokázal zahrát od Pepíčka Zímy po Modern Talking.
  Technologie šly ale ještě dál. Přišel internet a zlaté doby stahování MIDI file, disketové mechaniky přímo v nástroji a pak už stačilo jen předstírat hru a mačkat tlačítko start.
Díky tomu se na svatbách, zábavách i plesech objevily kapelky, které vlastně ani nehrály a dodnes nehrají. Tomu se říká byznys panečku. Prostě easy! Koupíš mašinu, seženeš dvě tři kámošky coby zpěvačky, postahuješ MIDI (dnes už zpoplatněné většinou) a jedem!
Blbý a tom je, že maminka maturantky a její strejda vůbec nepochopí, že je to celé podvod, stejně jako nevěsta s ženichem ze Zlámané Lhoty. To je trošku faul, na ty muzikanty, kteří sice také hrají z MIDI, ale samozřejmě poctivě dohrávají svoje party (těžko hrát čtvery klávesy, basu a bicí deseti prstama) a v podstatě nikterak nehřeší, protože oni dohrávají do připravených podkladů.
  A jsme u dalšího tématu!
Kdo z těch samohrajkářů umí, napsat si sám song v MIDI, má doma vůbec nějaký software, ve kterém to dělá, vyzná se v této technologii, a snaží se ty podklady udělat opravdu věrně a dobře. Těch moc nebude asi. Všichni ti rádobyumělci by měli zalézt sto metrů pod zem, naházet svoje mašinky z mostu do Vltavy, Labe či Nežárky a věnovat se házení šipek.
  Proč mě to tak rozčiluje?
Protože znám lidi obou ražení. Znám lidi, kteří jsou schopní pustit skladbu i s melodickou linkou, kterou hraje v nejlepším případě flétna a celé jim to zní jako z konzervy. Dokonce i lidi, kteří pluginou vyřízou zpěvy z hotové nahrávky a zpívají do originálu, což osobně považuju za hyperprasárnu.
  Znám ale i lidi, kteří si doma vezmou nahrávku a celou si jí nahrajou znova. Notičku po notičce. Hledají tu nejlepší kombinaci zvuků, efektů a mnohdy si skladbu udělají ve své vlastní aranži. Každý kdo to kdy dělal, ví že jedna písnička je minimálně den práce, spíš dva.
  Proč to vlastě celé píšu?
Důvod je ten, že někdo řekne "samohrajkář" a myslí tím oba ty muzikanty. Toho co by na piáno nezahrál ani doprovod k Dajáně, o MIDI, DAW, VST, systémových zprávách, pluginech, Cakewalku, Cubase a tak dále slyšel jen z vyprávění, kterému navíc nerozuměl a na ty, kteří vědí co dělají a snaží se to dělat poctivě. Nemluvě o tom, že mazáci vědí, že každá tahle sranda něco stojí.
  Tedy přeji všem těm co si s tím dají tu práci, ať se jim daří. A těm ostatním aby mráz prdel roztrh!
Asi tak.