Články a reportáže
Datum: 22.02.2020
| |
Přečt.: 1642x
|
Kom.: 28
|
Rub.:
Muzika
Spartakiáda z jeviště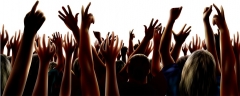 Rozmáhá se nám tady takový nešvar.
Určitě to znáte také.
  Jdete na ples ideálně na maturitní. Zábava se rozjíždí, kapela hraje, publikum křepčí na parketě a začne se hrát první ducárna, nebo jiná pecka a z jeviště se ozve výkřik na hranici možností hlasivek frontmana " Ruce nad hlavu!". Publikum poslechne jako dopadený desperát před ústí hlavně z dílny Samuela Colta kdesi v Dawson City a ruce vystřelí nad hlavu a začne tleskat. Až sem je to v pořádku.
  Hraje se další pecka a situace se opakuje a opakuje a opakuje a opakuje a opakuje. A pak je to samé "Jedééééém", " A všichni s námi!" , "Neslyším vás!", "Ještě víc!" a "Ruce nad hlavu!" , "Jste tam?!" atd. Vypadá to velice efektně, pravda. Mám to taky rád jako muzikant, když sál zpívá  s rukama nad hlavou, ale mělo by to jaksi být samo sebou. Ne na povel a ne u každé druhé věci. Hecování patří na fotbal, ne na pódium. Mimochodem u fotbalu hecují fanoušci hráče, ne naopak.  Pak to vypadá trošku až komicky jako nepovedená Spartakiáda. Pro muzikanty, kteří se na tom plese ocitnou mimoděk jako návštěvníci, to vypadá ještě více komicky, ba spíše až tragikomicky.
  Vždycky si říkám: "Jak to ti filutové dělají, z pódia se valí sound zvící Stounů, celá kapela protleská a prokřičí dva tři refrény a vše jede jako po drátku". Nějak si tak pomyslím, že bych to chtěl taky umět, sundat ruce z nástroje, kytara by hrála sama a já bych mohl předcvičovat na té Spartakimuzikádě a hecovat " Zvedněte ty pazoury, klackové nevděční!" Prostě bych to chtěl umět jako tyhle muzikanti. 
 A jsou to ještě vlastně muzikanti?
Vlastně je tahle Spartakiáda nemůže ani těšit. Je to taková náplast za to markýrování. Ono se totiž někdy stává to, že publikum to vycítí samo, kdy má zpívat s kapelou a tleskat s rukama nad hlavou. Spartakiády netřeba.