Články a reportáže
Datum: 28.03.2007
| |
Přečt.: 5597x
|
Kom.: 3
|
Rub.:
Muzika
Co se chystá v sobotu 31.3. na Poště?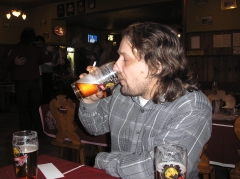 malé překvápko....
Onehdá co se můj webmaster vyjádřil, že B-band je houby band když jsme dva, jsem se namíchnul a rozhodl jsem se, že ho potrestám na věky věků. Jenže vymyslet pomstu je někdy dost těžký.
Poté co jsem zavrhl box, dvojitého Nelsona i válečky, protože ač je Honza o dvě váhové kategorie níž, jeden nikdy neví zda v mládí nechodil do sokola či do juda, jsem vymyslel ďábelský plán.
Rozšířím B-band o webmastera. Ne že by tedy seděl na jevišti u notebooku a on-line pracoval na webu, ale bude se aktivně podílet na produkci B-bandu. Původně jsem zamýšlel, žy by třeba mohl tančit nebo tak něco, ale ve finále zvítězila myšlenka, že by mohl také něco zahrát. Nepředpokládám, že citace z Neználka, kterého má Jeník nadrceného nazpaměť z dob kdy chodil do Pionýra, by vás nějak nadchly. Možná tak v jednu v noci, ale to už se na Poště zavírá.
Takže milý mistr přes jedničky a nuly bude hrát v sobotu na Poště na baskytaru.
Nevím zda se baskytarista těší, ale já jo. Takže určitě přijďte, to musíte rozhodně vidět.
Tak Jeníku, to máš za ty řeči.... :-)
Nejbližší akce

20.04.2019
DALIBORKA - Na poslední chvilku!
Přátelé, neplánovaně na Daliborce už od 19:00.

27.04.2019
BAR U PRINCE - Děčín
Než budete na čarodějnicích křepčit kolem ohňů, přijďte potrénovat. Začátek ve 20:00.

30.04.2019
PÁLENÍ ČARODĚJNIC VE SVÁDOVĚ 2019
Pčed Restaurací koruna od 18:00 hod.