Články a reportáže
Datum: 31.03.2007
| |
Přečt.: 6161x
|
Kom.: 6
|
Rub.:
Muzika
-123 minut v Národním domě 29.3.2007- turné 10 let -123 minut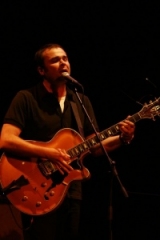 Nepobírám přátelé, nepobírám.... Na tenhle koncert jsme se chystali opravdu dost dlohou. A znáte jak to bývá. Když se na něco moc těšíte, obvykle to stojí za starou bačkoru. Tak to se v tomto případě ROZHODNĚ NESTALO. 123-ky mám trošku naposlouchané z CD-ček a tak jsem byl hrozně zvědavej na živé provedení tohoto tria. Když už jsme u toho, všimněte si, že jsem nepoužil žádný přívlastek. To proto, že si absolutně netroufám tuto kapelu žánrově kamkoliv zařadit. Možná, že mě znalci přitlučou na kříž, ale já bych to viděl na jakýsi etnický jazz-rock, dá li se to tak vůbec říct. Na kapele byla hodně znát mnoholetá sehranost a kluci opravdu excelovali a bylo na nich hodně znát, že je to baví. Když jsem se vzpamatoval z prvotního šoku, jak moc dobře jim to šlape a mimochodem jak moc dobře jsou nazvučeni, začal jsem si všímat frontmana kapely kytaristy a skvělého zpěváka Zdeňka Bíny. Člověk s mimořádným charisma. V tomto je kapela naživo dvěstěprocentní oproti nahrávce. Jeho hra na šetistrunou lubovku Gibsona byla famózní, doplněná o skvělou práci s vazbou, kvákadlem flažolety atd. prostě všechno co je možné v kytarové hře využít Zdeněk Bína prostě bezproblémově využívá. Místy jsem měl pocit, že do Pavlíčka, který hrál ve stejný čes v Teplicích mu opravdu mnoho nechybí. Diváci ocenili i poněkud komickou vložku s výměnnou prasklé struny aniž by přestal zpívat, a kapela přestala jamovat. No kdo tuto vložku neviděl, opravdu o hodně přišel. Když si k tomu všemu přidáte jedinečnost tvorby této kapely, máte v hlavě obrázek, který vám tam hodně dlouho vydrží. Mimochodem dnes hrají ve Vansdorfu, kdyby jste si chtěli udělat výlet. Stojí to za to. Více o kapele viz odkazy
přejít
Nejbližší akce

19.07.2019
Hospůdka Pivo Studené, Březiny
V létě po parném dni na pivko a taneček ...

09.08.2019
Soukromá akce - MANE

16.08.2019
Hospůdka Pivo Studené, Březiny
Prázdniny v plném proudu, přijďte na taneček na hřiště