Články a reportáže
Datum: 17.04.2007
| |
Přečt.: 6327x
|
Kom.: 5
|
Rub.:
Muzika

Pozvánka do Eldoráda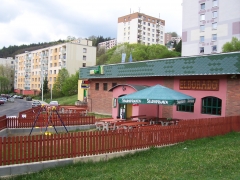 Nově otevřená hospůdka v Bynově, kde budeme ke slyšení Konečně to někoho napadlo, že by se mělo hrát někde v Bynově v nějakém kultivovaném prostředí. Je to krásná hospůdka, kam se nemusíte bát vzít s sebou svou manželku nebo milenku nebo tak něco :-) Prostě je to tam fain Po krátké pauze je tato hospůdka opět otevřena. Je tam malé pódium a parket, takže k tanci ideální. Ale to už vlastně předbíhám seriálek "Kde se hraje", kde se brzy tento podnik v Bynově brzy objeví. Kdo ví, kde je v Bynově kostel, už tam trefí. My se na vás 4.5. v pátek v osm večer těšíme.
Nejbližší akce

19.07.2019
Hospůdka Pivo Studené, Březiny
V létě po parném dni na pivko a taneček ...

09.08.2019
Soukromá akce - MANE

16.08.2019
Hospůdka Pivo Studené, Březiny
Prázdniny v plném proudu, přijďte na taneček na hřiště