Články a reportáže
Datum: 27.05.2007
| |
Přečt.: 8220x
|
Kom.: 11
|
Rub.:
Muzika

Bublinový mejdan na Poště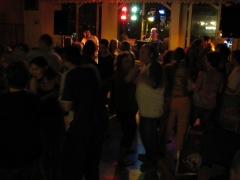 Jak jsem ho viděl já. Tak a máme to za sebou. Chtěli jsme vás překvapit. Prostě udělat něco jiného. Nejdříve jsme vás napínali, nic jsme nikomu neprozradili a vy jste byli zvědaví a tak vás přišlo hodně. To nás samozřejmě potěšilo. Pravda sice přípravy zabraly trošku více času než obvykle, ale co by člověk neudělal pro trošku té zábavy. Když jsem s Honzou v půl pátý montoval světla, říkal jsem si, že jsme asi opravdu blázni. Venku lilo jako z konve a už sme se obávali, zda vás déšť neodradí. A neodradil Pak jsme začli hrát a rosvítili si na to, takže to zvenku možná po soumraku vypadalo jako diskotéka. O další překvápko se zasloužil Honzík, svým megabublifukem na dálkové ovládání. Ten se vám líbil hodně. Ani vám nevadilo, že vám padají mýdlové bubliny do březenské dvanáctky. Ti, kteří chodí pravidelně, určitě zaznamenali dvě novinky v repertoáru a to Beatles - Ticket to ride a U2 - With or widhout you. Vy jste řádili a my řádili s vámi. Najednou byl konec a šlo se na kutě. Tak co? Zopákneme si to někdy?
Nejbližší akce

19.07.2019
Hospůdka Pivo Studené, Březiny
V létě po parném dni na pivko a taneček ...

09.08.2019
Soukromá akce - MANE

16.08.2019
Hospůdka Pivo Studené, Březiny
Prázdniny v plném proudu, přijďte na taneček na hřiště