Články a reportáže
Datum: 28.06.2007
| |
Přečt.: 2068x
|
Kom.: 2
|
Rub.:
Muzika
Úpadek jedné "hvězdy"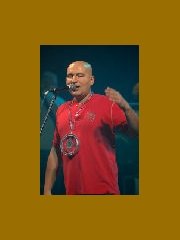 Dopis bývalé fanynky skupiny Tři sestry Třem sestrám po koncertě 26.5.2007 v Litvínově Zdarec, jsem celkem pohodová fanynka skupiny Tři sestry. Bydlím nedaleko Litvínova, a proto jsem byla náramně šťastná, když jsem zjistila, že tam budete v sobotu hrát. Spunktovala jsem všechny známé okolo, nalákala je do Litvínova, pod příslibem perfektního zážitku (a to jste měli v Teplicích velkou konkurenci – bylo zahajování lázeňské sezóny s celkem slušným výčtem kapel), ale bohužel jsem tentokrát opouštěla koncert totálně zklamaná. Zarazil mě již začátek koncertu. Hosté hráli perfektně, bylo vidět jak se snaží, ale když se člověk rozhlédl kolem sebe, bylo mi jasné, že většina lidí netrpělivě čekala na hvězdu večera. Nevím co se stalo, jestli měl Fanánek špatnou náladu, ale jisté je, že jste začali hrát celkem pozdě, kdy už většina z nás byla pěkně naštvaná a znechucená. Když si to tak dneska promítnu, tak mi připadalo, že všichni čekají, jen aby začalo pršet a nás "blbce dole" to odradilo … Když jste se nakonec rozhoupali a vystoupili na pódium, tak pro mě byl neuvěřitelný šok vyhlášení přestávky asi po půlhodinovém hraní. Musím říci, že mě a spoustu dalších – kteří mimochodem patřili mezi vaše věrné posluchače (jestli jste si stačili všimnout, tak se tam pohybovalo dost lidí, ve věku 30- xxx let, takže opravdu skalní fanoušci, kteří uctívají Vaši hudbu již dost dlouho) to tak vytočilo, že jsem měla sto chutí se sebrat a odejít domu… Připadalo mi to celé, jako výsměch Fanánka.Nevím, kdo mu co provedl, ale věřte tomu, že 99% lidí tam přišlo z ohromného nadšení a velkého obdivu k celé Vaší kapele, je škoda že jsme se museli takhle spálit. Fanánek sice ze začátku prohlásil, že je nesmírně rád po takové dlouhé době opět v Litvínově, ale jeho chování tomu nenasvědčovalo. Celou dobu na něm bylo vidět, jak ho to celé nesmírně nudí a obtěžuje (pravda, jediné pobavení přišlo až na závěr večera, při trapném vyhlašování soutěže Tři sestry hledají tři sestry – no alespoň se mu zlepšila nálada ne ? Byla jsem před rokem v prosinci na koncertu v Sazka Aréně v Praze, kde to byl perfektní, nepřekonatelný zážitek. Napadlo mě, jestli byste si stejnou drzost dovolili i v Praze, ale asi ne, tam je to o něčem jiném. Do soboty jste pro mě byli jedna z mála kapel, které jde samozřejmě vedle finančního ohodnocení, také o pobavení lidí. Od soboty bohužel tento pocit nemám – a myslím, že nejsem sama. Spadli jste u mě do škatulky "nafrněných komerčáků", kterým jde bohužel jen o peníze. V červnu hrajete v Ústí nad Labem, chtěla jsem jet i tam, ale bohužel z litvínovského šoku se budu muset ještě dlouho vzpamatovat. (pozn."pod čarou" to nemluvím ani o šíleném prodeji Vašich triček a věcí, chtěli jsme si pořídit s přítelem tričko, ale když jsem viděla velice strohý sortiment brčálníků, které tam jeden zoufalec nabízel, přešla mě chuť….) Mějte se krásně a přeji více spokojenějších fanoušků, než jsem já. A.H.
Nejbližší akce

19.07.2019
Hospůdka Pivo Studené, Březiny
V létě po parném dni na pivko a taneček ...

09.08.2019
Soukromá akce - MANE

16.08.2019
Hospůdka Pivo Studené, Březiny
Prázdniny v plném proudu, přijďte na taneček na hřiště