Články a reportáže
Datum: 30.07.2007
| |
Přečt.: 12423x
|
Kom.: 10
|
Rub.:
Muzika

Za kostku cukru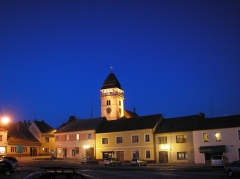 Dvojkoncert Druhé trávy a Devítky v Dačicích. Tak jak jsem si říkal, že budu odpočívat a nebudu poslouchat o dovolené ani rádio v autě, tak to jsem samozřejmě kecal. Na toulkách Českou Kanadou jsme zavítali do městečka Dačice. (Kdyby jste to náhodou nevěděli, tak vynález kostkového cukru je zrovna odcamcaď). Na plakátku jsem si přečetli, že se zde v rámci kulturního léta koná tento koncert a tak jsme šli. Udělali jsme moc a moc dobře, protože se nám celý koncert v prostorách zámku líbil. Kromě toho, že obě kapely hrály výborně, jsme se dozvěděli i dvě velice zajímavé novinky a to, že: Devítka vydala nové album z názvem "Chat". Internetoví pařani sice vědí o co jde, ale ta deska o tom určitě nebude, jak bylo znát z ochutnávky. Robert Křesťan utrousil zajímavůstku, že pracuje na desce se svými kolegy z Druhé Trávy, kde nebude nic jiného než písničky Boba Dylana v úpravě těchto vynikajících instrumentalistů opatřené texty přeloženými práve Robertem Křesťanem. Tak to si rozhodně nenechám ujít. Třeba to bude další deska, která ve mě zanechá drážku. Takže až budete brouzdat internetem, zkuste se podívat na stránky těchto kapel, třeba se dozvíte ještě víc, když už jste s námi nebyli v Dačicích. Mimochodem napůl s panem Hronem, který zvučil Devítku se o zvuk staral Jirka Mašek, který opravdu Druhou Trávu umí moc a moc. Že by šestý člen kapely?...
Nejbližší akce

19.07.2019
Hospůdka Pivo Studené, Březiny
V létě po parném dni na pivko a taneček ...

09.08.2019
Soukromá akce - MANE

16.08.2019
Hospůdka Pivo Studené, Březiny
Prázdniny v plném proudu, přijďte na taneček na hřiště