Články a reportáže
Datum: 22.08.2007
| |
Přečt.: 6180x
|
Kom.: 12
|
Rub.:
Muzika
V září pošta ve třech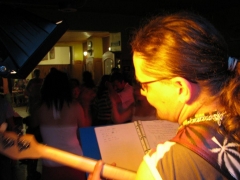 Překvápko přichystáno Takže po všech prázdinových improvizacích, pro vás chystáme opět rozšířenou sestavu B-Bandu na Poště. A jelikož jste si zvykli na nějaké to světýlko, bublifuk nebo jiné překvápka, tak už teď vám můžu prozradit, že opět budeme zásluhou Honzíka mít něco nového pro vaše pobavení. My doufáme, že to určitě bude stát za to. Dokonce možná budeme mít překvapení dvě, ale to bych opravdu moc předbíhal událostem. Prostě kdo si počká, ten se dočká a i přestože je mi vás netrpělivostí hořících líto, víc neprozradím... prostě přijďte.
Nejbližší akce

19.04.2019
Hospůdka Pivo Studené, Březiny
Krásná rodinná hospůdka na hřišti v Březinách. Přijďte si večer zařádit.

20.04.2019
DALIBORKA - Na poslední chvilku!
Přátelé, neplánovaně na Daliborce už od 19:00.

27.04.2019
BAR U PRINCE - Děčín
Než budete na čarodějnicích křepčit kolem ohňů, přijďte potrénovat. Začátek ve 20:00.