Články a reportáže
Datum: 18.11.2007
| |
Přečt.: 15122x
|
Hodn.: 5,00 z 5
|
Kom.: 41
|
Rub.:
Muzika
UBÝVÁ NÁM ČAS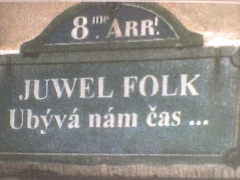 O zatoulaných nahrávkách prvotní sestavy Juwel Folku
Minulý týden se mi dostalo do ruky CD o kterém jsem si myslel, že už jej nikdy nebudu vlastnit.
Pokud vím tak to byl jediný exemplář, který existoval a z něhož mi Jenda milosrdně pořídil kopii.
Když v roce 1996 nahrávka nadvakrát vznikla, tak ještě vypalování CD bylo vcelku v plenkách a tuhle technologii neměl doma kdekdo, tak jako jí dnes pokládá každý za samozřejmý doplněk svého domácího požírače času. Byla tenkrát natočená na DATku což byla dostupná metoda digitálního záznamu. To jen tak zkraje na vysvětlenou.
Rok 96-tý byl druhým rokem existence kapely a my jsme nutně potřebovali nějakou nahrávku, kterou bychom se mohli alespoň trošku prezentovat. Nakonec to dopadlo tak, že jsme vytiskli pár obalů a rozmnožovali jí na kazetách a takhle šířili mezi posluchačstvo. Pravda, že jsem totálně dodělal svojí kazetovou mechaniku na své HI-FI SONY věži:-) neustálým doděláváním kopií. Ono zas těch kopií nebylo tolik, ale mechanika už v té době toho měla i tak hodně za sebou.
Když jsem si doma po letech pustil těch deset zapomenutých písniček, tak mi v hlavě proběhl malý film o těch prvních dvou letech kapely a o tom tak trošku nešťastném rozpadu té první sestavy. O neuvěřitelně bezstarostném životě a o těch prvních festivalech až třeba po to plné letní kino na finále Trampské Porty v Ústí nad Labem, které jsme s trémou absolvovali.
Některé písničky se dochovaly a dočkali se i vydání na CD "Všechno to". Ty ostatní by asi nikdy na žádném webu nebyly, kdyby Honza neshraňoval tu již zmíněnou jedinou kopii CD.
A tak dnes můžete opět tyto písničky slyšet. Uslyšíte zde první verzi Psího Počasí, duet "Ubývá nám čas" Freddyho a Vlaďky Skálové, "Smutnou nevěstu" i s banjem Míši Štěpánka, který byl jediným hostem na této nahrávce. Taktéž zde ožívá písnička "Andělé" i ze smutnou vzpomínkou na P. Špátovou, které Jára písničku věnoval.
CD "Ubývá nám čas" najdete v sekci CD-NAHRÁVKY. Tedy poslouchejte.