Články a reportáže
Datum: 27.11.2006
| |
Přečt.: 9721x
|
Hodn.: 3,00 z 5
|
Kom.: 10
|
Rub.:
Muzika
Nová služba pro Vás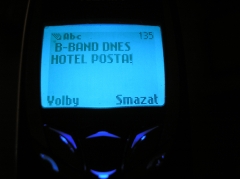 aneb Buďte v obraze Před nedávnem mě několik přátel oslovilo, ať jim dám vždycky vědět, kdy a kde s Pepou hrajeme. Tak jsem čas od času rozeslal pár SMS-sek a také jsem čas od času na někoho samozřejmě zapomněl. Inu mám také jen hlavu na krku a to jen kvůli dešti. To mě přivedlo na myšlenku to dělat nějak lépe. Díky všemocnému internetu se to podařilo, a některým z vás jsem již zaslal první zvací sms-ky. Pro Vás, kteří by jste taktéž rádi dostávali tyto informace rovnou na displej svého miláčka je pomoc velice snadná. Stačí mi poslat vaše telefonní číslo na e-mail
martinrychtarik@seznam.cz
a je vystaráno. Samozřejmě mě není nutné posílat ani jméno. Až si to jednou rozmyslíte, stačí poslat zase jen jeden e-mail a já Vás samozřejmě z této databáze opět odeberu. Takže žádný strach a do toho. Pokud nemáte důvěru v elektronickou poštu, můžete mi vaše číslo samozřejmě sdělit osobně na jakékoliv tancovačce. Takže: Do toho!