Články a reportáže
Datum: 10.02.2008
| |
Přečt.: 7058x
|
Kom.: 20
|
Rub.:
Muzika

PLES STŘEDNÍ ŠKOLY ŘEMESEL A SLUŽEB na Střelnici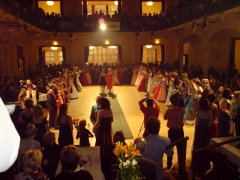 Jak bylo?
Tak a máme to za sebou.
Maturanti si užili svůj den a musím říct, že jim hvězdy přály. Všichni se, alespoň dle našeho soudu, dobře bavili. Nikdo nezlobil. A všem to moc slušelo.
Nebudu vás tady zdržovat reportáží z plesu. Jen pár obrázků:
Všimněte si klučičí bubenicko píšťalkářské kapely, která ve mě tak trošku evokovala vzpomínku na legendární album pana Stivína s názvěm Quo Vadis. A také mi trošku kluci udělali starosti, ale nakonec jsme je přeci jen nazvučili.
Ještě je tady několik momentek, než jsme začali hrát, protože potom už na focení nebyl čas.
A my se těšíme na příští rok.
Nejbližší akce

27.04.2019
BAR U PRINCE - Děčín
Než budete na čarodějnicích křepčit kolem ohňů, přijďte potrénovat. Začátek ve 20:00.

30.04.2019
PÁLENÍ ČARODĚJNIC VE SVÁDOVĚ 2019
Pčed Restaurací koruna od 18:00 hod.

17.05.2019
Hospůdka Pivo Studené, Březiny
Hurá na hřiště za muzikou.