Články a reportáže
Datum: 25.02.2008
| |
Přečt.: 19439x
|
Kom.: 71
|
Rub.:
Muzika
Doplesováno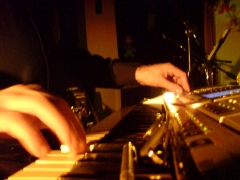 Alespoň pro letošek. Tak a máme to letos za sebou. Celkem jsme jich odehráli pět a většina se nám moc líbila. Zažili jsme ledacos a docela jsme se i nasmáli. Oku jsme polahodili dík maturantkám a mnohdy i maminkám.
Také jsme se bezvadně nadlábli výborného zvěřinového guláše na Mysliveckém plese. Jožin vyhrál mikrovlnku v tombole a já celkem tři láhve vína.( vložené finance neuvádím). I to patří k plesové sezóně.
Hlavně jsme se snažili všechny ty maturanty, myslivce, učitelky i fotbalisty pobavit. Což doufám, že se nám podařilo.
Vlastně jsem rád, že už je po. Kdyby totiž byla plesová sezóna celý rok, asi by se muzikanti nevyspali, nebo by se museli rychleji množit. Takže teď budeme odpočívat, a těšit se na příští sezónu.