Články a reportáže
Datum: 28.03.2008
| |
Přečt.: 16513x
|
Kom.: 9
|
Rub.:
Muzika

Kdo se lvů nebojí?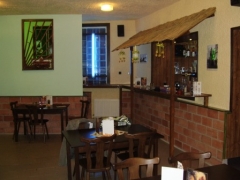 Pozor!!! Hraje se i v Podmoklech v nově otevřené hospůdce U LVA
No kdo by se lvů bál?
B-Band ne a já už vůbec ne, páč jsem sám ve znamení této krásné zvěřeny.
Nicméně o tom tento článek není. Důležité je, aby jste zbystřili a zaregistrovali novou hospůdku kde se dá posedět, popít zatančit atd.
Není ani tak důležité aby jste zbystřili a informaci uložili, jako spíše, aby jste se přišli podívat.
Protože, když nepřijdete, tak to budeme muset všechno vypít za vás a to by jsme také nemuseli ve zdraví ustát. Takže hybaj ke Lvovi!
Hospůdke leží v Divišově ulici ( bývalá Kačenka) a dle fotografií mě zaslaných vypadá mooc hezky. Takže v sobotu 5.dubna v sedm večer ať jste tam.
PS: Lvi prý vůbec nekoušou. Kecy!