Články a reportáže
Datum: 20.07.2008
| |
Přečt.: 13864x
|
Kom.: 11
|
Rub.:
Muzika

Velká voda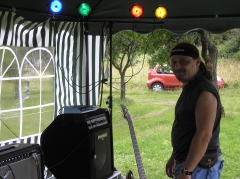 aneb Jak dopadla pouť v Mukařově
Pouť začala jako tradičně výstřelem z děla. Hosté se seběhli něco po čtvrté a jedli, pili hodovali a k tomu je skvělě bavil šikovný pan kouzelník. Kromě kouzelníka i náš basista přispěl troškou do mlýna a vyměnil svojí pětistrunnou baskytaru za vysílačku, a tak se nad osadou Zelený proháněl rádiem řízený model letadla a Jenda opravdu předváděl kousky hodné Piera Clostermana.
Břišní tanečnice pak byly překvapením tak dobře utajeným, že jsem o něm nevěděl ani já. Takto to prostě připravil a vymyslel pozorný pan Tuček.
My jsme vyčkávali až dorazí Jožin a pak už nic nebránilo aby jsme začali. Louka se dala do tance a všechno probíhalo jako na drátku. Až na jednu maličkost.:-)
Najednou zahřmělo a zábava pod širým nebem se stala v minutě bojem o aparaturu a nástroje. Naštěstí bylo dost ochotných, kteří zachraňovali s námi a tak se nám podařilo, jak doufáme, všechno odnést dřív, než nám to odnesla voda.
Ti kteří zůstali na noc však o muziku nepřišli. My jsme jen vyměnili Jožina za Freďáka a elektrickou kytaru za akustickou a hráli jsme opravdu dlouho do noci. Než nás přemohla únava a šli jsme si lehnout.
Snad na přesrok poručíme větru dešti.